Antonio Conte is confident that Eden Hazard will be ready to return to action when Chelsea host Crystal Palace on Saturday (1 April) after the Belgium international missed the previous win over Stoke City due to a calf injury. The Italian boss also confirmed that John Terry is back available but suggested that he will still have to check the fitness of "two or three" players before deciding his starting line-up.
Hazard was unavailable to help Belgium in the recent encounters with Greece and Russia after he picked up an injury in his calf just before the Chelsea trip to Stoke. However, he was pictured back in training on Thursday and Conte expects to have him fully fit to face Palace.
"I'm confident [Hazard will be fit], I'm confident, but not only to play but to play really well. That's different, yes," Conte said in the press conference ahead of the game.
Terry was also left out of the squad to face Stoke due to an ankle injury, but Conte said that the captain has been training since the beginning of the week and will be available to host Palace.
"John Terry is good. He trained this week," Conte said.
However, the Chelsea boss will still face some selection dilemmas ahead of Palace's visit after revealing that some of his international players have returned to West London with some problems.
Yet, Thibaut Courtois also missed the second encounter of the Belgian national team due to a problem in his hip while Diego Costa suffered an injury scare during a training session with Spain.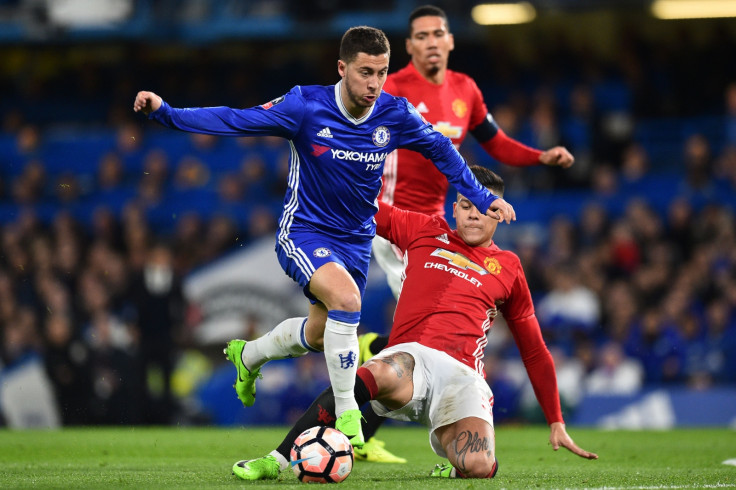 "This week we were faced with a lot of problems. Tomorrow will be a very difficult game for us for many reasons. After the international break it's not easy. Some came back with some problems. For sure it's important to check two or three situations and then to make the best decision tomorrow," Conte confirmed. "We must pay great attention. It's a game of fundamental importance. Don't forget there are 10 games to play and we hope to finish the season with great success for us, for the club and for the fans. In my past I lived two different [title-challenging] experiences, one positive and another negative. For this reason, I like to repeat we need 21 points to be champions."
Crystal Palace arrived to Stamford Bridge only four points above the relegation zone. However, Conte refuses to take anything for granted after pointing out that Sam Allardyce side have improved vastly in recent games, having won their last three encounters against Watford, West Brom and Middlesbrough.
"I remember very well the last game against Crystal Palace. We deserved to win but we also suffered," the Chelsea boss recalled. "They have a lot of great players – Benteke is a top player, the same with Zaha, Townsend is another player I like a lot, Cabaye, Puncheon, a lot of great players."
"If you ask me why they are in this position, I don't know. It's very strange. When you have this team with these great players it can happen, like with Chelsea last season. They have won the last three games; in the last six games they are sixth in the table. We have to pay great attention."