Chelsea boss Jose Mourinho warns Real Madrid to forget about Eden Hazard signing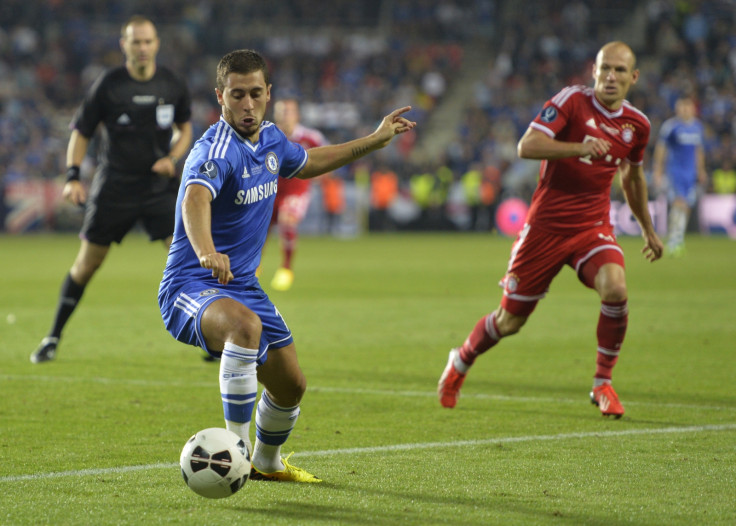 Chelsea manager Jose Mourinho has warned Real Madrid to forget about the signing of Eden Hazard while refusing to confirm whether the Belgium international could cost Los Blancos more than the £85m ($128m) they paid Tottenham for Gareth Bale.
The Champions League winners broke the world transfer record to secure the services of the Wales international in summer 2013, beating the £80m they spent to lure Cristiano Ronaldo from Manchester United in 2009.
And some reports recently claimed Los Blancos may be ready to break the bank once again for Hazard after Real Madrid second team boss Zinedine Zidane, who is tipped to replace Carlo Ancelotti in the near future, revealed his admiration for the Chelsea ace.
"There are players I keep an eye on and who I like a lot, like Lionel Messi and Cristiano Ronaldo, of course. They are fantastic players, but I like Eden Hazard a lot too. I enjoy everything he does on the pitch. I like the way he carries himself, that decisive streak in him and the fact that he's improving every year," Zidane said said.
But Mourinho has claimed he is not concerned about the France legend's words as Hazard recently proved his commitment to Chelsea by signing a new deal at Stamford Bridge.
"No [I am not concerned]. We just signed a new contract with him. We didn't put a gun to his head. He had a lot of time to think about it. He had the family to assist him in his analysis," Mourinho said.
"He likes Chelsea, he likes the team, he likes the link. He made a commitment for the future of the team, signing a very good contract. I don't think he's interested in going."
And asked whether Hazard could eventually cost more than Bale, he said: "That's a good question. I have my idea about it. But I can't share with you."
Hazard is one of the favourites to win 2014-15 Professional Footballers' Association player of the year award having lead Chelsea to the top of the Premier League with 13 goals and 11 assists.
But Mourinho says he is focused on winning the Premier League rather than worrying about Hazard's individual awards.
"The most important thing is the team target, the objective we establish for the season as a team," he said. "If he wins a Premier League this season, fantastic. If, on top of that, he has some individual awards, it's nice.
"I think he is now [one of the best three players in the world], but this is not our culture in this country, our culture in this club. Even my culture as a coach, to be going in this direction: to talk about who is the best, second best, third best... In this moment, he's a fantastic player, a fantastic talent."
© Copyright IBTimes 2023. All rights reserved.