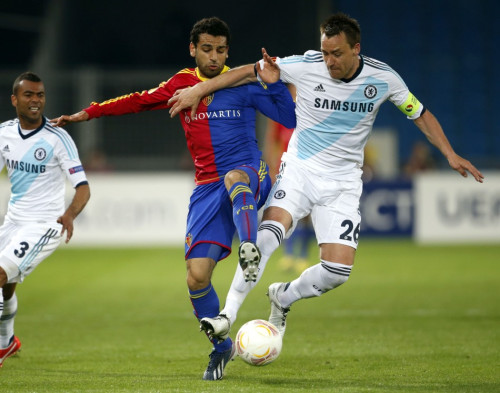 Chelsea manager Jose Mourinho says the club have clinched an agreement with Mohamed Salah for his transfer from FC Basel.
The Blues agreed a fee with the Swiss giants on Thursday and have now struck a deal with the Egyptian international, with only a medical standing between him and a permanent move to Stamford Bridge.
With Juan Mata's move to Manchester United set to be confirmed subject to a medical, Salah represents the ideal replacement for the outgoing Spanish international and Mourinho admits Chelsea have been forced to move quickly to lure the Basel wideman.
"It was a surprise to us that Juan was leaving," Mourinho admitted. "We were not prepared to try to bring a player to replace Juan in the squad so everything happened very, very fast.
"We had to work on that and to try to see what options could be good options for us and finally we tried to go for Salah and we start from zero.
"We don't even know who the player's agent is. The first step was an agreement with the club as we made official with Basel, that situation is done everything is signed and done subject to the medical that he hasn't had yet and subject to the player 's desire to join us or not.
"Now we know he wants to and that he is happy that the club has an agreement with Chelsea and he is happy to come but we have to finalise or not."
As a deal appears likely to be confirmed in the coming days, Chelsea have seemingly beaten Liverpool to Salah's signature, however manager Brendan Rodgers admitted on Thursday he was still optimistic of bringing the 21-year old to Anfield.
However, Mourinho is confident a deal will be struck that sees Salah come to west London.
"Maybe he [Brendan Rodgers] is right I don't know what Liverpool did before us but the only thing we know if we contacted Basel before the player," the Chelsea boss added. "We asked Basel if the player was available to be negotiated and we reached an agreement.
"I like the fact that he can play the same way to our attacking players do which is a player with adaptability to play left, right or behind the striker.
"He can play on the right or the left or a no.10. He is fast, creative and when we analyse him he is a humble personality ready to work for the team and adapt himself to a new life.
"We believe if he comes that he will have a similar proves to the Willian one. He will need two or three months to row up. We lose an experienced top player like Juan but we bring in a player with top potential.
"We are confident and an agreement between the club and only goes forward when there is a agreement with the player. He told me personally that he wants to come and now his terms and the medical he has to pass probably in Zurich we have to go. And hopefully he comes but probably the situation is still open."
Last week, Saint Etienne defender Kurt Zouma claimed he had held talks with Mourinho regarding a move to Chelsea and the Nigerian youngster admitted he was tempted by the idea of moving to the Premier League.
On the links with Zouma, the Portuguese boss said: "Chelsea always think about the future and when we think about the future we have scouting and we contact agents.
"We contact players which is when we have permission and we try to be in control, of the situation. But we think we are fine we think we are doing well.
"For example in this transfer window if you see what we did with Mata and Kevin de Bruyne compared with Matic and Salah we changed two players for two players. "
Mata will become the second exit from Chelsea in January when his deal with United is agreed but Mourinho hasn't ruled out Michael Essien also leaving the club following reported interest from AC Milan.
The Ghanaian has started just twice for the club in the Premier League this season and Mourinho is open to allowing the 31-year to depart ahead of he 2014 World Cup.
"Michael Essien is in this moment in a position where he can go or can stay," the 50 year old said.
"If he stays it is fantastic as he is a team player. But he is another player who gives everything to this club and if that situation arrives for his future and if something comes to him we must show him the respect and not stop him going.
"If he stays the he is playing against Hull next weekend so we are more than happy."