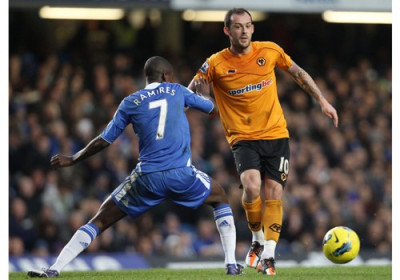 In a night of mixed fortunes for the English giants, Andre Villas-Boas' Chelsea have staged an emphatic comeback into the Premier League title race, beating Wolverhampton Wanderers 3-0 at Stamford Bridge.
The Blues' determination was very much evident all through the game with the first breakthrough coming from John Terry himself on the seventh minute. Terry headed home a timely cross from Juan Mata.
Mata facilitated the second goal too when Daniel Sturridge tapped home another brilliant marker from the Spanish striker on 29 minutes. Overall, the Wolves appeared to be in total disarray at this stage. In fact, it would have been a worse disaster for them had it not been for a series of brilliant saves from goalkeeper Wayne Hennessey.
Mata himself struck when he picked up a pass from Didier Drogba for a flawless finish just before the break.
Overall, Wolves looked better in the latter half. Chelsea went goalless but they already had enough ammunition to defend their lead.
A beaming Villas-Boas said: "I think we can (win the title). We have the talent and belief will be the last thing to die. It's difficult for us to look at a distant leader but we have the example in the past that we can shorten distances. That serves as inspiration. We need to get the winning streak back like we did last year.
"It was important for us to get the three points. We managed to shorten the distance to Manchester United and Newcastle, but for us to be a threat at the top of the table, we have to continue.
"December will be an important month. We have a Champions League fixture still to play, but the rest of the games are in the Premier League."
Some of the decisive moments of the fixture are below: