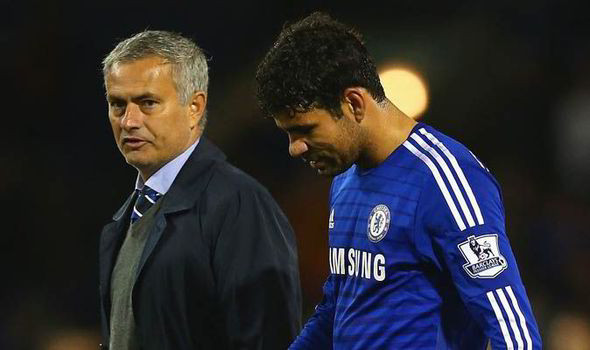 Chelsea boss Jose Mourinho has confirmed Diego Costa is set to return to action for the London derby against QPR on Saturday [1 November], but he will still require special care.
After playing for Spain in both Euro 2016 qualifiers against Slovakia and Luxemburg earlier this month, the striker has missed the last four Chelsea games - against Crystal Palace, Maribor, Manchester United and Shrewsbury.
Costa started the season in sensational form, scoring nine goals in seven Premier League appearances, but has struggled with numerous fitness problems in both the hamstring and groin – and was rushed to hospital last week with a viral stomach.
But after returning to training earlier this week, Mourinho has confirmed he is now available for the derby against QPR.
"Diego Costa is available," Mourinho said.
"It's good for us. It's difficult when you only have one striker available, but when you have two the situation improves.
"After the national team [games] we missed him for four matches. Crystal Palace, Maribor, Shrewsbury and Manchester United, four matches in three different competitions and now he is again available.
"But he needs to be under special care and we are going to do that."
Mourinho has previously blamed Spanish boss Vicente del Bosque for Costa's injury.
When questioned whether the striker will play for Spain in the next set of international fixtures on November, Mourinho said: "I cannot stop [anyone] from going.
"I am not anybody to not stand in the way of players going away on international duty. I'm always in support of players going on international duty when they are in condition to do so."
The Chelsea boss has also revealed both Loic Remy and John Obi Mikel remain on the sidelines, but Brazilian midfielder Ramires is available for selection.
"Remy is not available. He will be available again after the international break," the manager added.