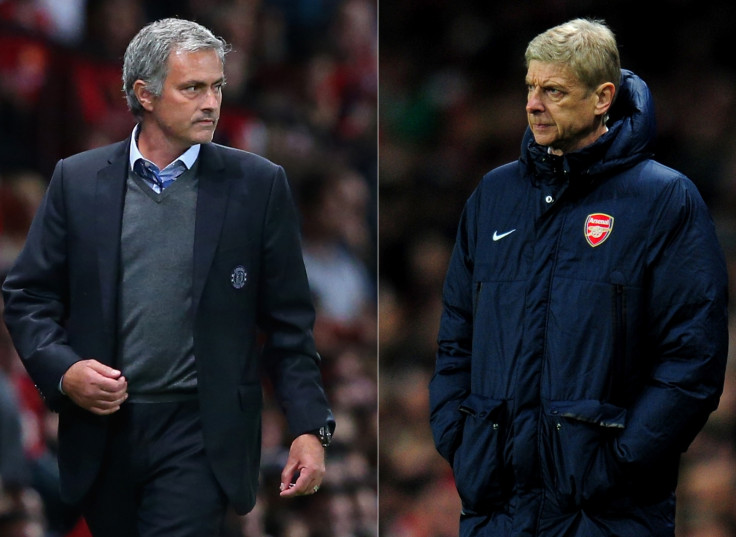 Chelsea manager Jose Mourinho would expect Arsenal to become a genuine contender for next season's Premier League title if they signed "four top-class players" during the summer transfer window.
The Gunners trail the league leaders by 13 points, with Mourinho's men just a win away from claiming their first championship for five years.
Arsenal manager Arsene Wenger signed Alexis Sanchez and Danny Welbeck in the summer but Mourinho feels the Gunners need further resources to enhance their title push and put pressure on Chelsea next term.
"It's even more difficult to dominate than before," the Chelsea boss told reporters. "How can you speak about domination when everyone knows what will happen next summer? Arsenal have a phenomenal squad.
"Thierry Henry said they need four top-class players but give to Arsenal four top-class players and I think they will again be The Invincibles.
"Manchester United have a phenomenal squad, including the most expensive player in the history of the Premier League, Angel Di Maria, who is not even playing.
"That shows the quality of the squad. They are a club where Financial Fair Play doesn't make a big difference and they will invest hugely again in the summer.
"[Manchester] City have done phenomenally well, winning two titles in three years and people say they will invest hugely again. Liverpool can be fighting for the title, too.
"It will be even more difficult for everyone than this year. It's very difficult for a team to be dominant. This is not Germany with Bayern Munich. Not Switzerland with Basel. Not Scotland with Celtic. It's very difficult."
Player futures for Wenger to decide on
While Wenger will be hoping to make the right additions that can close the gap to Chelsea, the Frenchman must first decide on the future of a number of players who are coming to the end of their contracts.
Mikel Arteta, Abou Diaby and Tomas Rosicky are all out of contract while Theo Walcott is coming to the end of his deal, with questions being asked over his long-term future in north London.
Former defender Martin Keown told The Daily Mail: "Arsenal is the right club for Theo. He has been there 10 years now and they could be on the verge of a successful period.
"Walcott needs to look Wenger in the eye and discuss the future. They need to look at how to move forward and Theo needs to make his case, because he wants to play.
"He is a fantastic talent but consistency has eluded him. Injuries haven't helped but if he is not being picked he may feel the need to move on. If he is not getting opportunities, will that strangle his ambitions at the club? It needs addressing from both sides.
"I'm sure Arsene Wenger will want to keep him and Arsenal is a club where he can prosper. But if he can't promise Walcott first-team football, will he stay?
"If he does decide to move on, Wenger won't stand in his way. He is not the kind of manager to prevent players from developing because the worst thing for any player is not being able to play."