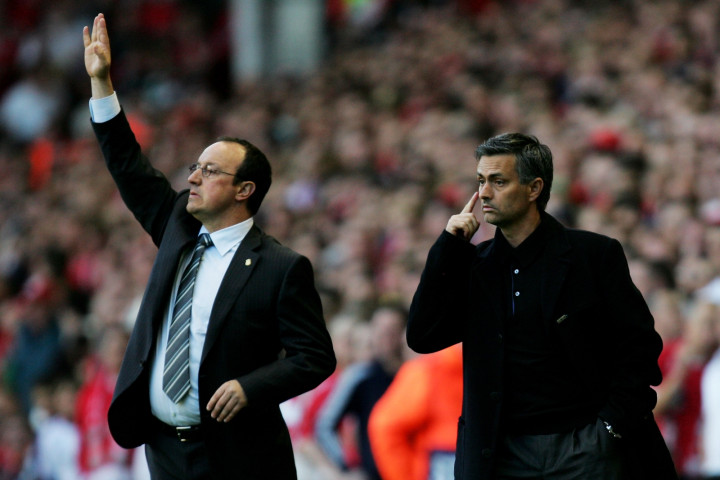 Jose Mourinho has claimed that Chelsea's 2013 Europa League victory under the guidance of Rafael Benitez was "not good" for the club. Real Madrid boss Benitez took over as interim manager at Stamford Bridge in November 2012 after the sacking of Roberto Di Matteo and led the club to victory in Europe's second-tier competition, along with a third-place finish in the Premier League.
But Mourinho, who last month accused Benitez of "destroying the best team in Europe" when the Spaniard succeeded him at Inter Milan in 2010, said the triumph was not good enough for a club of Chelsea's stature, and actually ended up being detrimental to his squad at the time. Mourinho guided Inter to a European and domestic treble in 2010 before leaving for Real Madrid.
Benitez succeeded the Portuguese tactician at San Siro but was sacked just six months into his reign, despite winning the Coppa Italia and the Fifa World Club Cup. The pair have had a prickly relationship ever since they were in charge of Chelsea and Liverpool respectively.
"When I returned, I felt the experience of Chelsea playing Europa League was not good," the Daily Mail quoted Mourinho as saying in a BT Sport documentary. "The Europa League is a different competition [from the Champions League], the Europa League is a different level of competition for a different level of player and a different level of club."
"It is not good for a big club to go there and win it. It is better for the evolution of the players and for the evolution of the team to be in the Champions League. Even if you are not successful, even if you do not win it, it is better to be in the Champions League."
He continued: "This is what I want to keep giving to my players and obviously we are completely open, we are good enough to, one season, to win it. I think the Champions League gives us a different thing to the Premier League. The Premier League is our competition and the Champions League is a competition that belongs to many different cultures."
The two-time Champions League winner also rubbished suggestions that he was a defensive coach, pointing to his record at Real Madrid and his first spell at Chelsea. "The best team in the history of La Liga: Real Madrid - 100 points, 126 goals, the team with more victories, more points, more goals. Manager? The defensive Jose Mourinho," he said.
"Premier League, record of points? Chelsea football club 2005/06. Manager? The defensive Jose Mourinho. There is something that is not right."