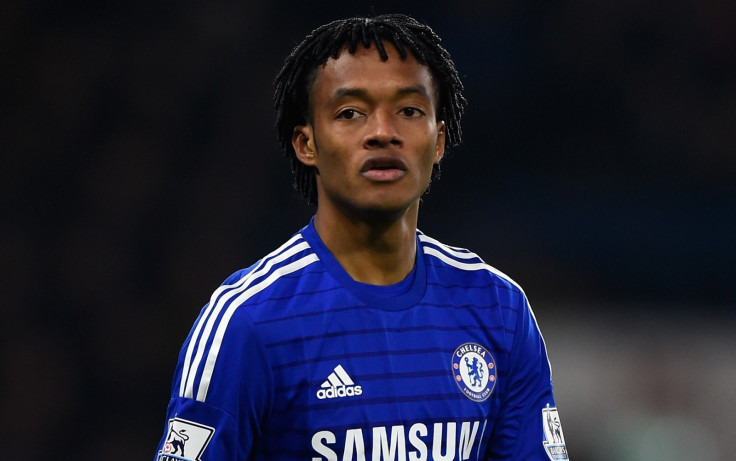 Juan Cuadrado is on the brink of finalising his move away from Chelsea to join Serie A champions Juventus. The Colombia international, signed from Fiorentina in January 2015, made just four starts for Jose Mourinho's side and is expected to complete his move today (25 August).
Cuadrado was greeted by supporters upon his arrival at Milan Malpensa airport last night (24 August), travelling to Turin on this morning. While the move has not yet been officially announced, Juventus confirmed via their official website the player has arrived in Turin to undergo a medical.
Chelsea have since confirmed the player has completed his loan switch the Bianconeri on a season-long loan deal.
Juventus director Giuseppe Marotta has confirmed the club had reached an agreement over a loan deal with Chelsea. But a statement released via the club's official website suggests the move could be a permanent one.
"Having landed at Milan Malpensa airport late last night, Juan Cuadrado arrived in Turin this morning for a routine medical examination ahead of his proposed transfer from Chelsea to Juventus," the statement read. "The 27-year-old will initially visit the city's Clinica Fornaca di Sessant before completing his tests at the Istituto di Medicina dello Sport."
Having failed to break into the Chelsea first team last season, Cuadrado's task of doing that this season was made all the more difficult by the arrival of Pedro Rodriguez from Barcelona.
The Premier League champions have already allowed one winger to leave the club this summer in Mohamed Salah, who has joined AS Roma on a season-long loan deal with the option to buy.
Juventus had been expected to come to a similar arrangement with Chelsea over Cuadrado. "It is true, Cuadrado will arrive on loan and we want to give Max Allegri the best possbile players to work with," Marotta was quoted as saying by Sport Mediaset.
"The opportunity to get Cuadrado presented itself and we took it. Now, it is up to Allegri, who is an excellent coach."