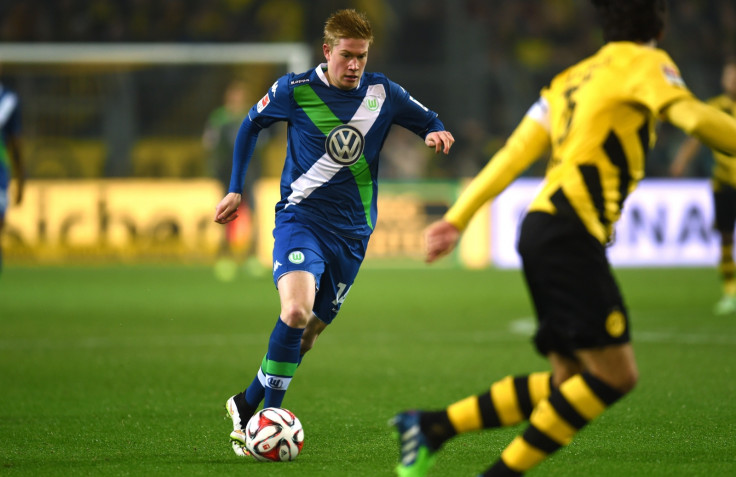 Chelsea manager Jose Mourinho refused to concede that he was on the wrong for selling Kevin de Bruyne to Wolfsburg and that the player could come back to haunt him with Manchester City in the upcoming season.
The manager revealed that he was not training well with the club and that he is happy to have done a lucrative deal when the opportunity presented itself.
The Belgian has been heavily linked with a move to the Etihad, according to the Daily Mail, but Mourinho insists that he did not have a choice regarding his transfer. De Bruyne has been among the best players in the Bundesliga last season and should he continue his brilliant form, will be a brilliant addition in the Cityzen's quest to reclaim their league title.
The 24-year-old has managed 22 assists and scored 10 goals in the league for the Bundesliga club and will add more quality up front for City, who failed to put their best foot forward last season with regards to Premier League results.
However, Mourinho failed to unleash the potential in De Bruyne at Stamford Bridge, with the player making only two starts in the league and was shunted to the bench in the corresponding games before his transfer in 2013. The Portuguese manager insists that the depth in quality in his team did not leave him with an alternative and it was in the interest of the player to force his way into the team.
"That is unfair because I wanted to keep him. And he told me it was not in his personality to be competing for a position in the team. He needed a team where he knows he can play every game. He needs to know that he is important," Mourinho said, when asked why he forced De Bruyne out of the team, as quoted by the Guardian.
"He did not want a team where he thinks am I playing or not? He needs that trust, he needs that quality. He needs that security. So I was not happy when he left. So yes it's not fair.
"He didn't tell me he couldn't handle the pressure. He told me he wanted to play every weekend. I told him this is Chelsea, you are very young, you have Eden Hazard, you have Mata, you have Willian, you have Schürrle, and I cannot promise you that," he added.
When, asked about his work ethic, Mourinho revealed that the player was not willing to sit on the bench and wanted a move abroad.
"He was not training very well and he was saying: 'I can't give you more. This is just my way.'
"So yes, I accept that if this is his mentality and it's his choice to go, it is better for Chelsea to make a good deal. Chelsea made a good deal and he was happy to go and I am happy because the kid is a good kid. And I am happy for him
"Players have different circumstances. We sold him, made our money and it was fantastic because we bought him cheap and sold him for a fantastic price. And now Wolfsburg, if they make a fantastic deal, that is good for them," he concluded.