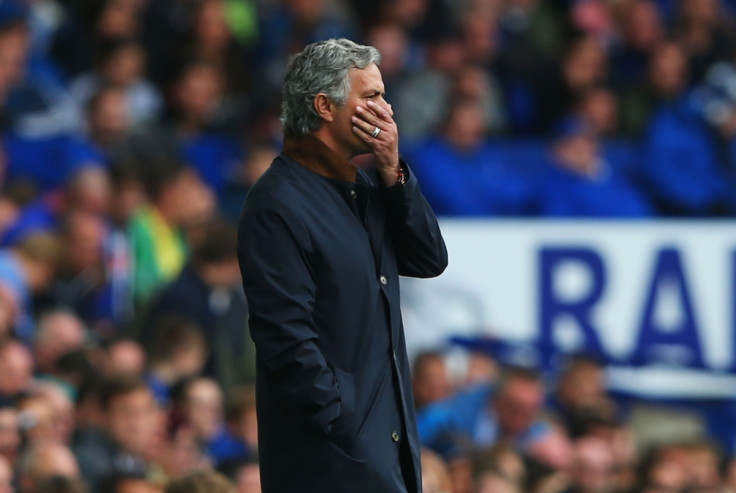 Chelsea manager Jose Mourinho has revealed that it was 'two ridiculous' mistakes from his team that led to the Blues losing their second Champions League group game to Porto on Tuesday (29 September) night. It was a disappointing return to Porto for its former manager, who insisted that he was happy with the overall performance of his team.
The Stamford Bridge outfit have had a difficult start to the season, after last season's heroics in the Premier League and now find themselves in third place in Group G after Dynamo Kiev beat Maccabi Tel Aviv. Mourinho made a raft of changes from the team that salvaged a draw against Newcastle United on Saturday 26 September, with Eden Hazard and Nemanja Matic dropping to the bench. The Portuguese manager also left Loic Remy and Radamel Falcao out of the squad, while insisting that it was just a team decision rather than punishment for a dismal performance in the Premier League.
Despite praising his defence for their overall display against the Portuguese giants, he bemoaned the lack of focus during the set-play which led to one of their goals in the 2-1 win. The manager is keen to find a balance sooner rather than later, and is hoping that the reigning domestic champions can get back to winning ways in their upcoming home games against Aston Villa and Southampton.
"I think it was a good performance with two ridiculous mistakes, and we were punished. The second goal ... for us it's a ridiculous mistake. We watched dozens and dozens of repetitions of Porto taking corners. I thought we were completely ready for that so, in a moment when the game was under control and we were preparing a change, to concede that goal ..." Mourinho said, as quoted by the Guardian.
"We had another similar mistake when they hit the post, but apart from that I think the performance was balanced. Defensively we had no problems and the defenders played well. Two ridiculous mistakes and we were punished for them. Those mistakes were difficult to accept," he added.
"The basic thing in football to work at is a defensive set-play: the ball is stopped, you defend the spaces or the man or both, so to concede the second goal was like ice in the players. But they reacted in a positive way and tried to get a result.
"I have to try and find a balance. We have two home matches in the Premier League to come [against Southampton and Aston Villa] and need two good results. Good feelings, happiness, self-esteem ... the players need that to play. When everything goes against you, it's difficult to have that feeling. So let's try, let's try on Saturday," the former Real Madrid manager explained.