Chelsea and Liverpool Rekindle Interest in Inter Milan Striker Mauro Icardi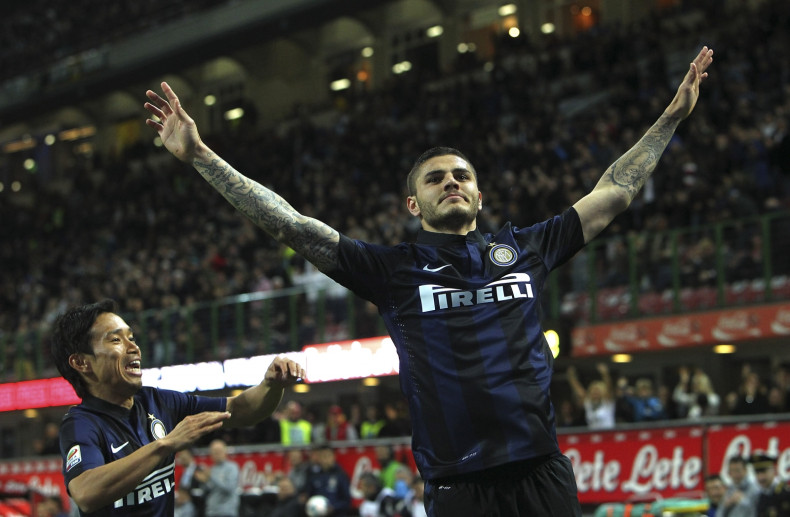 Chelsea and Liverpool have emerged favourites to sign Inter Milan striker Mauro Icardi in the summer, according to the Daily Express.
The striker is not in Roberto Mancini's plans for next season and will allow him to leave if either club is ready to shell out £28m for his services when the transfer window opens.
Both clubs had made bids for the player last summer but were rejected by the Italian in his bid to stay in Serie A.
Dubbed "The New Ronaldo", the striker has a bright future ahead of him and at 21, will learn a lot from his experience in the Premier League should he decide to give English football a chance.
Chelsea are in the market for a striker to replace Fernando Torres, with Loic Remy not being relied on by Jose Mourinho as a formidable replacement for Diego Costa should the Spaniard get injured.
Liverpool have their own problems up front with Mario Balotelli failing to live up to expectations following his much decorated move from AC Milan.
The striker has scored only once in the league this season and the lack of goals has stunted Liverpool's progress, with the Merseyside club struggling to close the gap on fourth spot.
Rickie Lambert is also not getting any younger while Daniel Sturridge's injury problems have left Brendan Rodgers completely bare up front, which given the departure of Luis Suarez, is not doing his league chances any good.
Mauro Icardi's arrival will give either club a long term solution whom they can groom into one of the best strikers in the world, given the lack of quality frontmen available in the market.
Meanwhile, Chelsea succumbed to only their third draw in the Premier League against Sunderland at the Stadium of Light, as Jose Mourinho's men failed to open the Black Cats, thus dropping two crucial points in the title race.
Liverpool had better luck in the weekend, scoring a late goal through Glen Johnson to get three points over Stoke City, taking them back into the top half of the table and in the reckoning for a top four spot.