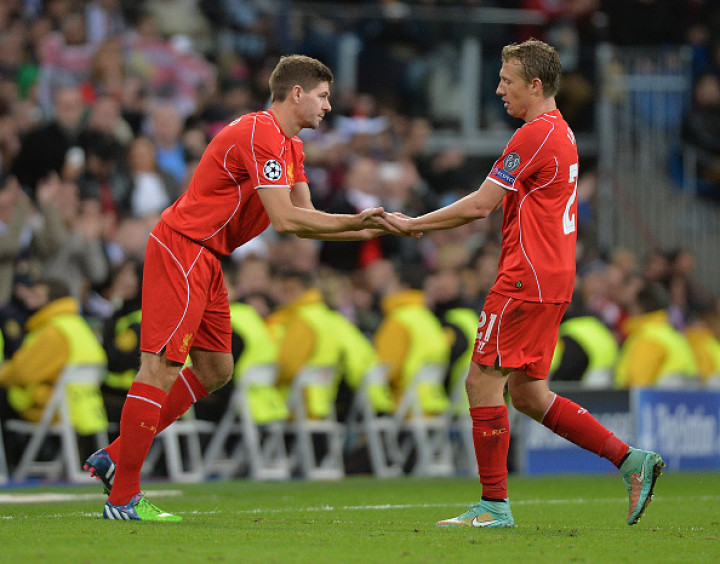 Liverpool midfielder Lucas Leiva has urged Brendan Rodgers to play Reds' skipper Steven Gerrard in an advanced role.
The former England international was playing in a deeper position last season and continued in the same position for most part of this season. However, the Northern Irishman started Gerrard in the No 10 role during the Champions League draw against Ludogorets.
"Probably the best years of Stevie's career were in that role," Lucas told the Liverpool Echo.
"Of course he has been playing deeper over the last year and for Stevie he will always be in the spotlight because he is the captain and an important player for the team."
"In the No 10 role we try to give him a lot of the ball because then he can affect play with his passes - you saw the pass he gave to Raheem (Sterling)," he added.
The Brazil international has seen his first team appearances being limited this season. Lack of playing time has seen his agent, Henrique Coelho, reveal that Lucas could leave Anfield in January.
The 27-year-old started against Ludogorets on Wednesday and Lucas is hopeful that he could retain his position in the starting line-up when the Reds face Stoke City on Saturday. The midfielder claims he is ready to give his best for the Merseyside club, despite limited playing time.
"I tried to show that against Ludogorets, that my commitment will always be there. The manager probably thought he needed to play players who could be committed to the cause and I am. Football is funny. Things change a lot but I will give my all until my last day here," the Brazilian said.
"Sometimes things don't work the way you want and my career has been like that at Liverpool. But I will just keep going until the last day that I am here."
"Of course I am not happy not to be playing. When you play, you feel that you can help the team and you feel better. Probably my Liverpool career is going to be like that forever until my last day here."
"I have just got to give my all to the team. This is my eighth season here, I have played more than 250 games and that means a lot," Lucas stressed.