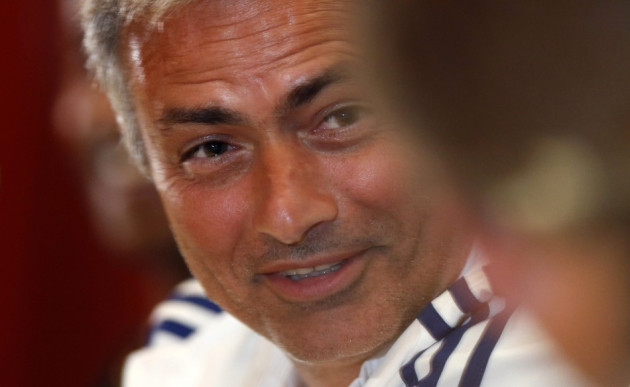 Chelsea manager Jose Mourinho believes that Liverpool and Tottenham Hotspur could mount a serious challenge for the Premier League title next season.
Both clubs have significantly strengthened over the course of the summer and Mourinho truly expects them to provide stiff competition at the top of the table next season.
Tottenham have twice broke their transfer record to sign Brazilian midfielder Paulinho for £17m and then again when Roberto Soldado completed his £26m move from Valencia, while highly-rated Belgian winger Nacer Chadli has also arrived at White Hart Lane.
Liverpool's business has been less dramatic, spending relatively low sums to bring in Luis Alberto, Iago Aspas, Simon Mignolet and Kolo Toure, but Brendan Rodgers is confident he now has significant depth in his squad.
Both sides have exciting young managers in their second seasons and Mourinho sees no reason why they cannot compete with last season's top four for the Premier League crown.
"I think to start there will be six teams," Mourinho told the Independent. "There is still more than a month for the transfer window to close. It depends on that. In these six teams a lot can happen.
"Probably many people think Liverpool. Why not? They have a great coach and he is there for the second year. He had one year to start with his ideas so why not Liverpool?
"Tottenham - why not? Because they don't have that winning culture of the last years? That's not the point. The point is the squad they have, which is fantastic, and again it's the second season for Andre [Villas-Boas]."
With Arsenal and Manchester United both failing to make any significant additions to their squad, some have questioned whether they will be able to compete with Manchester City and Chelsea who have both made some impressive acquisitions.
However, Mourinho expects both sides to once again be in the title race, though he feels by Christmas there will be a much clearer picture of who are genuine contenders.
Mourinho added: "Arsenal is Arsenal and probably they will be a better team. Chelsea is Chelsea. Manchester City and Manchester United, the champions of the last two years. Probably by December it will be five or four but to start I would say all six."