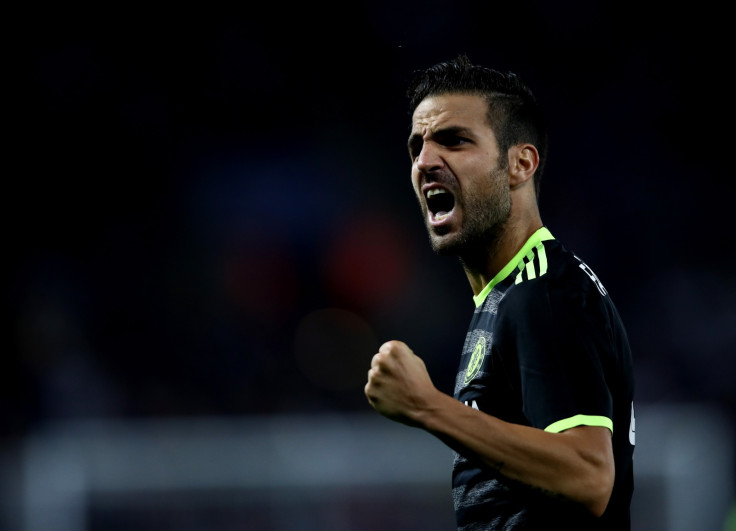 Chelsea manager Antonio Conte has revealed Cesc Fabregas could start the London derby against Arsenal on Saturday (24 September). The Spaniard made a match-winning contribution during the Blues' comeback win against Leicester City in the EFL Cup earlier this week and Conte has admitted he is considering starting Fabregas at the Emirates Stadium.
The 29-year-old midfielder has largely been used as a substitute since Conte became the Chelsea boss in the summer. But the Italian could hand Fabregas – who scored a brace against the Foxes – an opportunity from the outset against his former club.
"I think that for Cesc, it is a special game for him," the Chelsea manager explained during a prematch press conference, according to The Mirror. "The most important thing for Cesc is that he is Chelsea's player. He's playing very well.
"I am seeing him very focused and concentrated during the training sessions. He played a good game in the cup. There is a possibility that he can start tomorrow in the line-up. I have another day to make the decision."
Prior to the game at the Emirates, Fabregas – who left Arsenal for Barcelona in 2011 – revealed he still retains a fondness for his former club. "I lived moments there that I have probably not lived elsewhere in my career," Fabregas said, as quoted by the Evening Standard.
"It was a very special place for me and that's it. No matter what I hear, what they say to me, Arsenal will always be a fantastic special place in my heart. They gave me everything. I will repeat it until I die. No matter what, they are always in my heart."
Meanwhile, Fabregas admitted he was unsure whether he would start the much-anticipated London derby. He did, however, concede he was desperate to play as often as possible for Chelsea, despite rumours linking him with a move away from the club.
"It's too early to know whether I will start or not. Hopefully, I will. I'm not going to deny that I want to play every single minute, this is what I work for," Fabregas said. "But the coach chooses the 11 he feels is best suited to win the game. Whatever I am, I will support the team, inside or outside. When my time comes, I will try to perform, as I have been doing over the last few weeks."