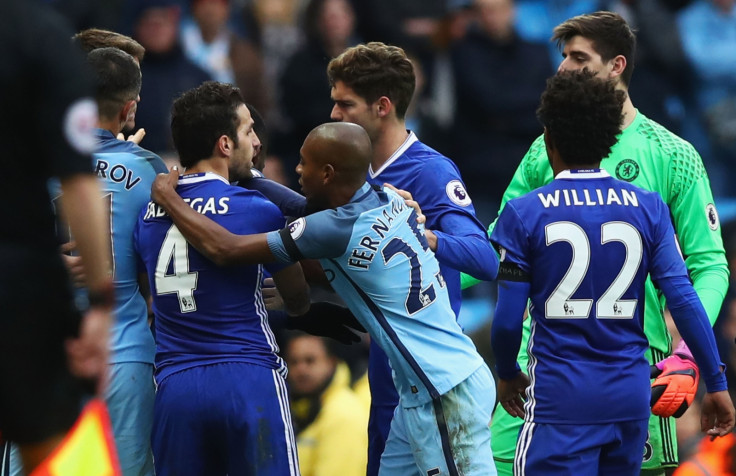 Chelsea and Manchester City have been fined £100,000 and £35,000 respectively for failing to control their players during the Premier League leaders 3-1 victory over Pep Guardiola's side on 3 December. Yet, the Blues have avoided a point deduction after manager Antonio Conte branded that possibility as a "joke".
Both teams were charged by the FA last week after players and member of the staff from both teams were involved in a massive fracas in the injury time of the encounter.
Manchester City striker Sergio Aguero sparked the brawl after making a horror challenge on David Luiz. The Argentinian was shown the red card by referee Anthony Taylor, while his teammate Fernandinho was also sent off second later after grabbing Cesc Fabregas by the throat.
The FA have now confirmed that Chelsea and Manchester City have admitted a breach of FA Rule E20(a) and will so need to respectively pay £100,000 and £35,000 as a punishment.
"Following an Independent Regulatory Commission hearing, Manchester City and Chelsea have been fined £35,000 and £100,000 respectively after both admitted a breach of FA Rule E20(a)," the FA have confirmed. "The two clubs were charged for failing to ensure their players conducted themselves in an orderly fashion and/or refrained from provocative behaviour. It followed an incident in the 95th minute of their game on Saturday 3 December 2016."
The Mirror reported at the weekend that Chelsea also faced the possibility of being docked points, as it is the fifth time in only 19 months that Blues have broken rule E20 covering the behaviour of players.
However, Chelsea will avoid the drastic punishment after Conte already laughed off that suggestions following the Sunday's win over West Brom.
"Are you joking?" Conte replied when asked about the potential point deduction. "If you're involved in a situation and the fault is not yours, why must you pay? I don't understand. My players tried to keep the calm. We are trying to improve in all aspects. You must be honest to understand when there is a fault of one team or both teams."
"In every game you fight a lot during the 90 minutes and then when the ref blows his whistle you finish. I don't know what happened in the past but I know what's happening in the present. My players tried to keep the calm."