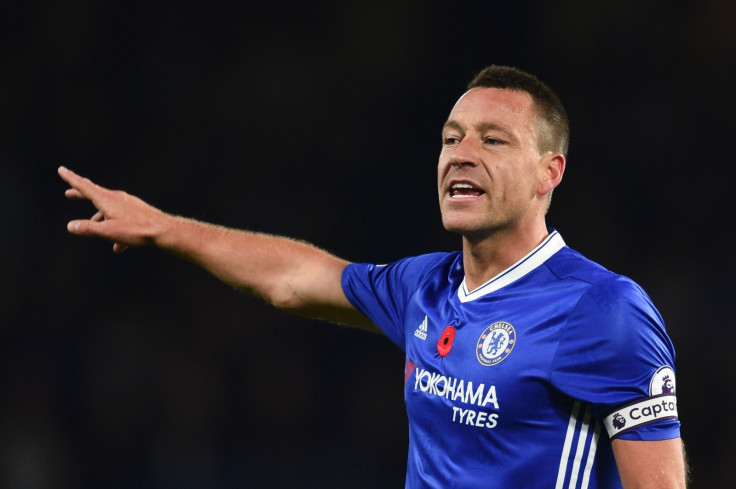 Premier League leaders Chelsea claim that discussions over the future of John Terry will take place later in the season, amid suggestions their long-serving captain has already been informed that he will not be offered another contract. The club are said to be seeking to move him into a possible coaching/ambassadorial role.
A report to this extent came from The Times, who also revealed Terry has told Chelsea that he will not be seeking to leave during next month's transfer window, amid lucrative interest from China. The veteran centre-back originally looked set to depart Stamford Bridge this summer after revealing in February that he had held no conversations over a new deal, but he finally agreed a one-year extension in May following the appointment of Antonio Conte and consultation between the new manager, Terry, owner Roman Abramovich and the board.
"John is our captain," Conte was quoted as saying by BBC Sport at a press conference on Tuesday. "I think he's doing a good job.
"When he's not playing he's helping me in the changing room to send the right message to the players. He loves this club and I think it's important to be focused on the moment and not the future."
Chelsea's head of communications, Steve Atkins, added: "It's a little early in the season for stories like this to come out. It's the kind of discussion that we have with players in the last year of their contract, but much later in the season. That discussion has not taken place between John and the club. It's something that will be discussed later in the season, not for now."
Terry, who missed six weeks with an ankle injury sustained against Swansea City in September, has been limited to just seven senior appearances so far this term and has not played since suffering a muscular problem in his gluteus while appearing for Adi Viveash's development side during a Premier League 2 victory over Southampton last month.
Terry is not the only Chelsea player to see his future subject to speculation. Fellow China target Cesc Fabregas has also been linked with an exit amid claims from The Mirror that Serie A title contenders Roma are willing to offer either Antonio Rudiger or Radja Nainggolan in exchange, and Conte offered no guarantees that the Spaniard will remain in West London.
"In football it is difficult to guarantee something," he said. "In my opinion Cesc is an important player for us and he played a key match against Manchester City and came on well in the last match. Cesc is always a good choice for me. I repeat – he is an important player. He is in the squad and now this is the reality."
Chelsea, currently three points clear of second-place Arsenal, travel to the Stadium of Light on Wednesday (14 December) seeking a 10th consecutive league victory. That fixture follows hot on the heels of Sunday's tight defeat of West Bromwich Albion and Conte is unsure which of his players will be unavailable to feature.
"At the moment I don't know, I am not sure. It's important today to check the situation and to see if we have all the players available. But I'm not sure at the moment."