Chelsea defender Gary Cahill has backed his side to go on and pip Tottenham to the Premier League title and believes the 2-0 defeat by Manchester United on Sunday (16 April) has given Antonio Conte's men a kick up the backside.
The Blues still lie at the top of the Premier League table but their lead has been cut from 10 points to just four in recent weeks. Despite their recent rough patch and Tottenham's immaculate form, Cahill is confident that Chelsea can hold off Mauricio Pochettino's men, bounce back from their comprehensive loss to the Red Devils and clinch their second title in three seasons.
"That defeat has given us all a kick up the backside," Cahill told The Evening Standard. "We know the league is not over, that it will be difficult, but we know we are more than capable of doing it. I certainly think we can win our last six league games.
"We just need to come back from this now. We need to lean on the experience we have in the dressing room and the players that have been through all this before. We can't let things get too twisted, after all we lost at Old Trafford which is a very tough place to go to.
"The most disappointing thing is we didn't play to the levels we are used too or the levels we expect. It can happen. But that is why we were so angry in the dressing room afterwards. It is important we respond this week. We have to show the same response we did after losing to Crystal Palace, when we beat Manchester City and Bournemouth."
Both Chelsea and Tottenham will turn their attentions away from league matters this weekend when they lock horns in their FA Cup semi-final at Wembley. A victory for either side could prove crucial from a psychological point of view, but Cahill does not think the result at England's home will have any bearing on the race for the title.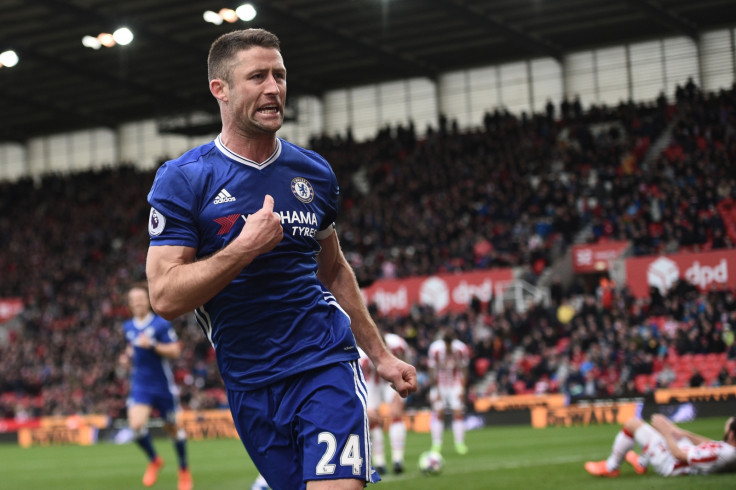 "Saturday will have nothing to do with the League," the Chelsea stalwart added. "In my head, I don't think it will have any impact. It is purely a cup game. Regardless of the opposition, we want to win it. We want to win the match because we want to pick up the FA Cup, it's one of our goals. Anything else is irrelevant in my eyes.
"Are Tottenham now favourites? It's a one-off game so however people want to build it up, they will. But it's at Wembley and maybe people will make a bigger deal of Tottenham going back to Wembley. I love Wembley, I love playing there with England and Chelsea. Tottenham are in fantastic form, as we have been for 95 per cent of the season."