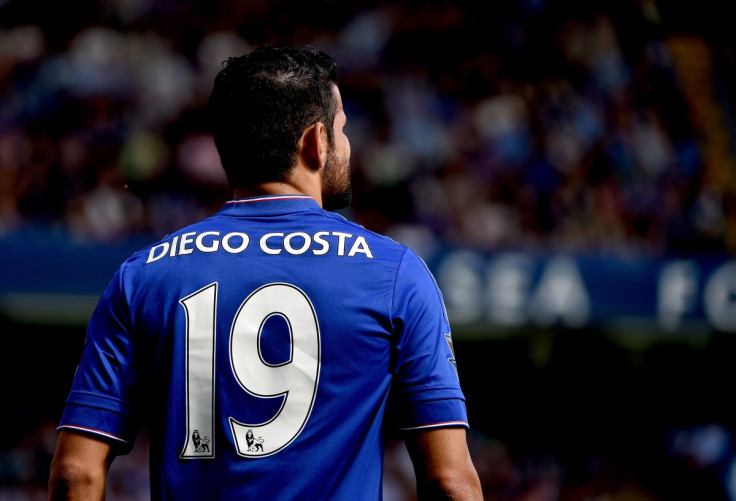 Jose Mourinho believes that Diego Costa is a victim of a certain bias from the media, who prefer to publicise a negative image of him than highlight the failings of others who try to incite him on the pitch. The Spaniard was involved in a tussle with Aston Villa midfielder Ashley Westwood but the exchange got under the radar as both players decided to move on without making a meal of the scene.
Costa came back after serving a three-game suspension after being retrospectively charged following Chelsea's game against Arsenal at Stamford Bridge. The 25-year-old got into a war of words with Gabriel after the defender had stood up for his defensive partner Laurent Koscielny who had a hand shoved into his face by the former Atletico Madrid striker. The Brazilian defender was shown a straight red for his reaction while Costa escaped scot-free, and Chelsea won the game 2-0.
However, the FA charged Costa for violent conduct after the game and was suspended for Chelsea's next three domestic games, while Gabriel's punishment was lowered to one game from three. In the Villa clash, Mourinho was happy that Costa did not react to the provocation by Westwood, but insists that such incidents will keep happening if the striker is not protected more by the media.
Costa scored his second goal of the season as Chelsea raced to a 2-0 win over Villa, taking their tally of points to 11, 10 behind Manchester City at the top of the league.
"I'm pleased he didn't react, but I would be even happier if the people who find his hypothetical or real negative moments were honest the other way and show and show and show," Mourinho said, as quoted by Goal.
"He will be targeted until the moment people point the finger at them and show the images, re-show the images and have the top pundits speaking about it.
"When you lose him we're a bit in trouble because the team always depends on a striker like him, from a character and personality like him.
"Diego isn't a leader in the dressing room, he doesn't even speak English well, but in the game, the way he plays, the way he gives his body to the cause is brilliant," he added.