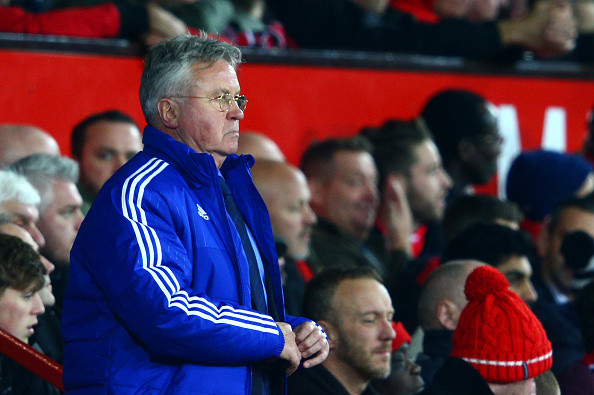 Chelsea manager Guus Hiddink has encouraged Christian Atsu to follow in the footsteps of Papy Djilobodji by moving on loan before the end of the current transfer window. The Dutch boss, meanwhile, hailed the club's decision to hand Branislav Ivanovic a new one-year-deal after claiming that the veteran defender "is back to where he once was" after a rough start to the season.
The Blues confirmed on Thursday (21 January) that Djilobodji had been dispatched to Bundesliga side Werder Bremen after the centre-back had just made one single appearance for the club since his unexpected £3m ($4.3m) arrival from Nantes on deadline day last summer. Atsu, meanwhile, returned to Stamford Bridge earlier this month after the Blues recalled the Ghana international from his unsuccessful time at Bournemouth, having previously spent loan spells at Vitesse Arnhem and Everton.
Hiddink believes the winger should attempt to secure more playing time abroad in order to prove he deserves a role at Stamford Bridge, with reports in Spain claiming both Espanyol and Levante are keen on his services.
"I think it is the same as with Papy. Players who don't have much of an option to play [at Chelsea], they must get the experience of playing weekly. I cannot say much more than this. He is not a young, young player, he is 24 and these guys need to play."
The manager refused to confirm if Djilobodji still has a future in West London after former manager Jose Mourinho also questioned his arrival to the club.
"I don't know [if he will play for Chelsea again]. I think he is still under contract with Chelsea and for those players it's important that they get minutes and play. He's gone to a league that I like and respect very much. It's an intense league and it's a good club. It's nice to see – he will start to play now and we will follow him closely."
Hiddink also talked up Chelsea's decision to commit the future of Ivanovic for one more season, after the club made an announcement on Friday.
"He's important, he is one of the main characters in this team. He has developed himself as one of leading people," the boss said. "I knew him from my spell in [charge of] Russia where he played as a central defender in Moscow."
"He went to Chelsea after that and has become one of the key members of the first team and the squad. He's back to where he once was. He can play easily in central defence [and as a right-back], both positions."