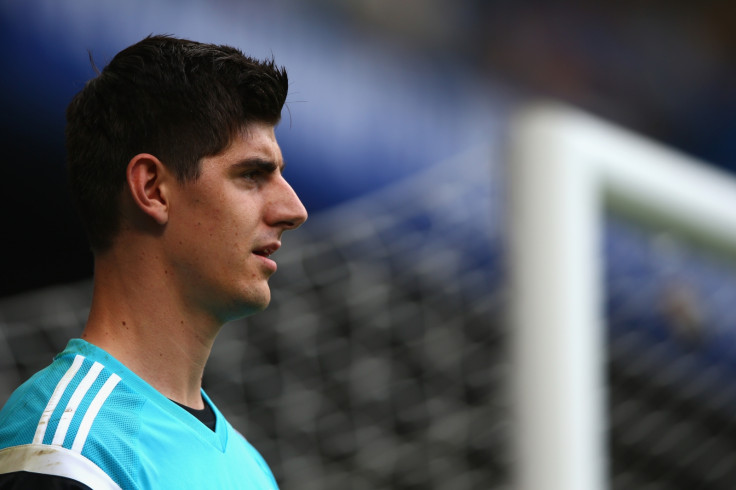 Chelsea number one goalkeeper Thibaut Courtois may miss the Premier League game against Leicester City on 29 April after he sustained a hip problem during the 0-0 draw against Arsenal, reports claimed.
The Belgium international has been Mourinho's favourite between the sticks, ahead of Petr Cech, since he returned to Stamford Bridge in the summer of 2014 following a successful three-season loan spell at Atletico Madrid.
But having started 29 of 33 Premier League games this season, Standard Sport reports that the 22-year-old may miss the trip to Leicester after he suffered a hip problem at the Emirates Stadium.
Should the Belgian miss the game, the report says Cech is on standby to take his place in the starting line-up.
The Blues visit King Power Stadium in search for a victory to take them another step closer to the Premier League title, as just six points are needed to clinch the trophy.
Chelsea manager Jose Mourinho previously confirmed striker Loic Remy will remains on the sidelines for the game after missed the last three matches, against Queens Park Rangers, Manchester United and Arsenal.
Furthermore, speaking in a press conference ahead of the game, the Portuguese manager said he was yet to make a decision on whether taking a gamble with Diego Costa.
"I don't know about Diego Costa. I have to think about if it deserves a gamble or if we wait a few more days to be completely sure. If it was a player without an injury history I would play him tomorrow, but because he is a player with a history I have to think about that," the manager said.
Meanwhile, Oscar is available for selection even though he was replaced by Didier Drogba during the London derby after colliding with Arsenal goalkeeper David Ospina.