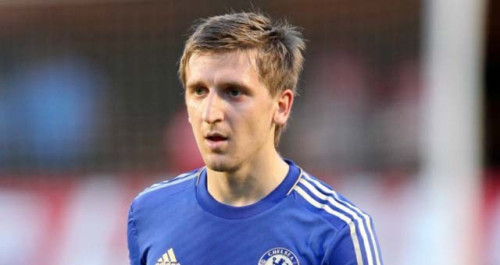 Chelsea winger Marko Marin has no intention of returning to Stamford Bridge at the end of the season and wants to remain at Sevilla where he continues to be likened to Lionel Messi.
The 24-year-old joined the Blues from Werder Bremen in the summer of 2012 but failed to have an impact among Chelsea's wealth of attacking options and started just five games in all competitions, none of which he finished.
Sevilla moved quickly to sign Marin during the summer transfer window on a season long loan and while he has recently been sidelined with a thigh injury, his time at the Andalucían club has yielded far more opportunities than in west London.
Although he is set to return to Stamford Bridge at the end of the summer, Marin is keen to seal a permanent move to Sevilla, despite a number of clubs already enquiring into his services.
"As things stand now, I am supposed to go back, but I have had so many enquiries," Marin said in an interview with Bild.
"Sevilla want me to stay, but that's not a decision only they can make. I would like to stay too because I really like it here, but in the end, it is up to Chelsea what happens.
"What matters now is that I get fully fit again. When I am fit, then we want to reach for the top. We are within touching distance of Champions League qualification and that is our goal. We've got the quality for it."
The nimble winger enjoyed a bright start to the season before injury struck and is now returning to full fitness as he bids to return to Unai Emery's starting XI.
Having made two late substitution appearances in Sevilla's last two league games, Marin is hoping his return will produce the form that had some supporters drawing comparisons between him and Barcelona's Messi.
"I'm loving it here in Spain," Marin continued. "The club, team and the fans – everything is perfect.
"People love me in Spain. I've already been likened to Messi, and when I am really fit again then these comparisons will resurface.
"I just need two or three more weeks. Everything is really perfect here, probably better than in England, even though I did enjoy my time at Chelsea."