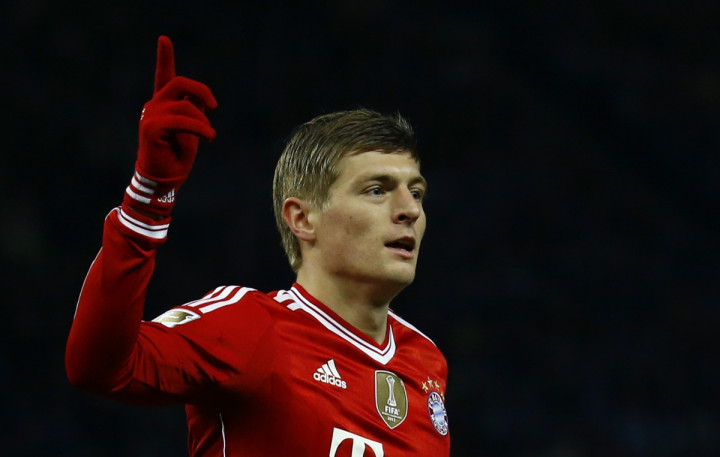 Chelsea are reportedly set to make a move to sign Manchester United midfield target Toni Kroos, according to Spanish newspaper El Confidencial.
The Bayern Munich star has one year left on his contract at the Allianz Arena and has rejected a chance to sign a new deal. Meanwhile, the Bundesliga club are also adamant and not willing to improve their current offer.
Kroos' situation at Bayern has seen him linked with a move to Old Trafford. In addition to this, Champions League winners Real Madrid are also in the frame for the 24-year-old.
The El Confidencial reports Jose Mourinho was interested in signing Kroos for Real Madrid, while he was in charge at Santiago Bernabéu. However, Real parted ways with the Portuguese tactician and he returned to Chelsea last summer.
With Kroos not extending his contract, the report claims Bayern manager Pep Guardiola would be forced to sell his player in the coming transfer window. Real have already held talks with the midfielder's agent and are ready to offer €6m (£5m) per annum.
The former Inter Milan manager wants to bring Kroos to Stamford Bridge this summer. Chelsea owner Roman Abramovich wants his club to beat Real in signing the Bayern star and is ready to offer a five-year deal, which will see him earn €8.5m (£7m) per annum.
Chelsea have January signing Nemanja Matic, Marco van Ginkel, John Obi Mikel and Ramires in their midfield. The latter two's future at the west London club remains uncertain as they are linked with a move away from the club.
The Daily Mail reports that Valencia are keen on signing Mikel, while Real manager Carlo Ancelotti wants to land Ramires. Should Mourinho allow both to leave the club in the summer transfer window, he would be looking to bring in reinforcements.
Chelsea have already signed Barcelona's Cesc Fabregas, who had also been a target for Arsenal and United. If the report is true, the addition of Kroos to the Blues' squad will bolster their strength and see Mourinho's side tipped as one of the firm favourites to win the Premier League next season.