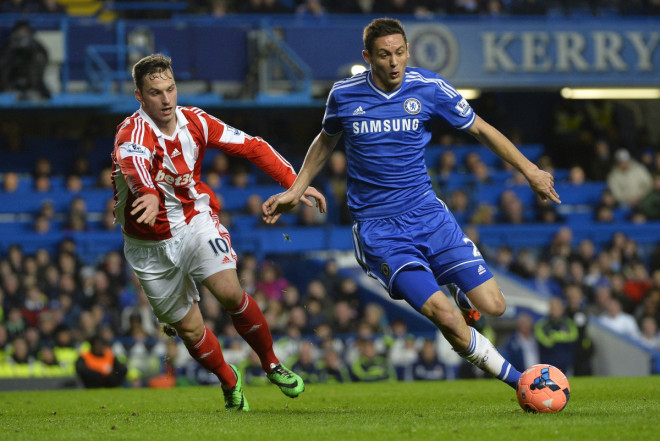 Many in the game were astonished that Chelsea forked out £21 million to re-sign Nemanja Matic from Benfica on 15 January this year. It seemed to epitomise Chelsea's insane recruitment policy over the last few seasons.
Matic had originally been signed from MFK Kosice in 2009 for a meagre £1.5 million. Like so many other youngsters he got few opportunities, and when he did he failed to shine. He made his full debut for Chelsea on 21 November 2009, coming on against Wolves as a 69th minute substitute for Florent Malouda. I remember being delighted to see a promising youngster getting a chance, but to be honest I remember very little about his performance. Then, sure as night follows day, yet another young acquisition disappeared on loan and was then subsequently sold.
The next time we saw Matic was in the final of the Europa Cup last season, and it was already clear that this was not the young lad who had debuted for the Blues some four years before. He looked stronger, more assured and played the key role at the heart of Benfica's defensive midfield [although luckily for Chelsea fans he wasn't good enough to prevent Chelsea bringing the Europa League trophy back home!]
Most Chelsea supporters were pre-occupied with a certain transfer of Juan Mata to rivals Man Utd during the transfer window, so we were somewhat distracted when the news that we had signed Matic came through. Of course the rival fans immediately pointed out the stupidity of re-signing a player who had only cost us £1.5 million, and had been let go for £5 million as part of a deal to capture comedian-in-chief David Luiz. We took it on the chin - after all, Jose Mourinho wanted Matic and he knows what he is doing so let's leave it at that.
I don't think that any one of us could have believed the impact that Matic was to make – almost immediately – in the game away at Man City. City were leading the League at that stage and were unbeaten at home. Mourinho's masterful tactics went a long way to inflicting defeat on City, but it was Matic who impressed most. Up against Yaya Toure who is widely recognised as one of the best, if not the best, midfielder of his type, the young Serb out-muscled his giant opponent, out-tackled him, out passed him and was very unlucky not to get on the score sheet with a spectacular drive from long range.
Since the victory at City, without doubt the turning point in our season, Chelsea have begun to look like a Mourinho team - strong, physical, quick and playing with maturity and intelligence. Much of this has been down to having Matic in the side. It is no coincidence that since Matic's arrival Chelsea have only conceded four goals in the Premier League. The defence has undoubtedly played a massive part in this, with Cech and Terry back to their best, and with Cahill and Azpilicueta maturing into fine players. But the real key is the defensive shield provided by Matic.
But it is not just his defensive duties that are so important to the team. Mourinho's Chelsea MKII have a different style to the first incarnation. The brief this time is to break up the opposition's play and to move the ball forward quickly and unleash the speed and talents of players such as Eden Hazard, Willian and Andre Schurrle. We have struggled over the last few seasons with a defensive midfielder who can do more than break up play and pass a no-risk sideways ball five yards. We need more for this team to flourish, and in Nemanja Matic we finally have it.
The performance against Arsenal proved this in spades, although Arsenal's midfield showed an unbelievable negligence and naivety in the process of being hammered 6-0. Nevertheless, Matic was instrumental in several of the goals, doing exactly what is required of a defensive midfielder of the modern type. In addition Matic allows the likes of Oscar, Willian and Hazard more licence up-front as they do not need to play deeper to get the ball and move it forward - Matic will naturally do this. And when Chelsea need to conserve energy, he can calmly slow the game down and keep possession.
This has not gone unnoticed by the Special One himself, who singled Matic out for special praise after the Arsenal match commenting that he keeps possession well, doesn't play square passes, has the vision to look forward and play the ball in to space, and when re-covering the ball doesn't make silly fouls in dangerous positions. Praise indeed from the great man himself.
What Matic gives Mourinho other than a superb defensive midfielder to plug one of the obvious holes in the squad, is options. He can now play one of Mikel, Ramires, Lampard or Luiz alongside Matic depending on the game situation and the opposition Chelsea face. And for this he must be very grateful. And we on the Chelsea FanCast are very grateful too, as nearly every week Matic gets nominated for our Man of the Match award. A great impact indeed!
If Chelsea win the title this year, I believe that much of this will be down to the signing of Matic. He has already proved a shrewd signing, and he is already helping to transform the team from 'little horses' into a stable of thoroughbreds.
Funnily enough, the Chelsea fans - and Matic himself - owe a debt of gratitude to 'Jesus', Jorge Jesus the Benfica coach to be precise, as it was Tim Sherwood's bête noire who identified that Matic would be well suited to the defensive midfield role and encouraged him to switch position from the number 10 role, and learn his trade in a new one.
A great deal of praise must also go to Mourinho for sticking to his guns and demanding the signing of a player who he knew would make the difference in spite of the peculiar circumstances surrounding it. More to the point it is further evidence of the benefit of having Mourinho as the manager at your club. Matic took all of one minute to decide to come back to Chelsea, the reason being perfectly simple: "I want to use this chance to play for a big club in a big league and work with a coach like Mourinho. He was one of the reasons I came back because probably he is the best coach in the world and it's good to work with him. I think I can improve a lot."
I suspect that many other promising young players will be making the same journey in the summer for the same reason, but it is unlikely that any of them will represent the bargain that signing Matic for £21 million has already proved to be.
David 'Stamford Chidge' Chidgey presents the award winning Chelsea FanCast TV show and podcast which can be seen every Monday at 19.00 on SportsTonightLive.com or You Tube or heard at mixlr.com/chelsea-fancast/ or downloaded from ITunes. Follow us on twitter @StamfordChidge and @ChelseaFanCast