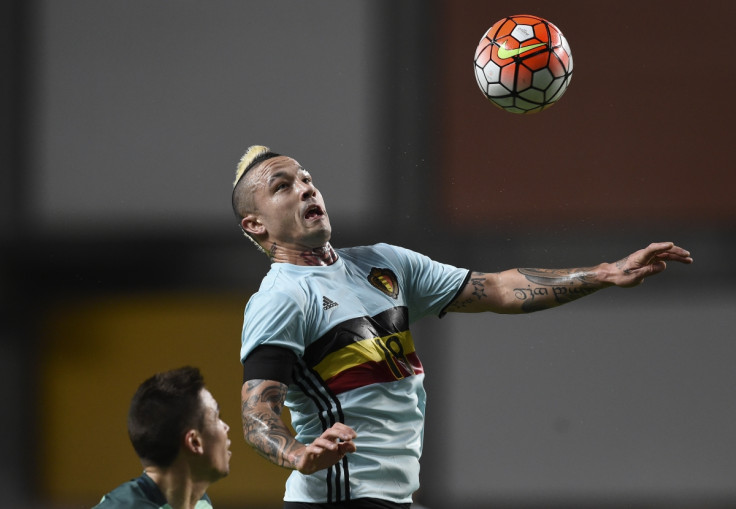 Roma midfielder Radja Nainggolan has dampened speculation linking him with a move to Chelsea, insisting he has not spoken to anyone over the possibility of leaving the Giallorossi.
Chelsea are widely expected to confirm Antonio Conte as their new manager at the end of the current season. According to a number of reports including from the Guardian, the former Juventus manager has identified Nainggolan as one of his priority signings once he arrived at Stamford Bridge. On Tuesday 29 March, the Evening Standard claimed the Belgium international has already taken the step of telling his friends that he is considering an approach from the Premier League side.
Nainggolan has insisted however that there is no truth to such claims. Tweeting ahead of Belgium's 2-1 defeat to Portugal on Tuesday, he wrote: "If I have not spoken to any club yet, why would I have spoken about it to my friends? Forza Roma and Forza Belgium tonight."
Conte, who announced this month he will leave his job as Italy boss to return to club management after Euro 2016, is expected be given free rein in the summer transfer window in order to lift the Blues from their current slump.
Already, the 54-year-old coach has been linked with a move for his former Juventus defender Leonardo Bonucci, with the Daily Telegraph claiming the Italy international could be brought in to help fill the void left by John Terry should he leave the club at the end of the current season.
Edinson Cavani and Paul Pogba have also been linked with lucrative moves to west London, while the Guardian have also suggested Conte will consider offering Juan Cuadrado a return to the club.
Cuadrado, 27, signed for the Blues from Fiorentina during the January transfer window of the 2014/15 campaign. A return to Serie A beckoned last summer when he signed for Juventus on a season-long loan. Although their paths never crossed directly in Italy, The Daily Telegraph suggest the appointment of Conte at Stamford Bridge this summer could see Cuadrado given the chance to impress the new manager, before a final decision is taken on his future at the club.