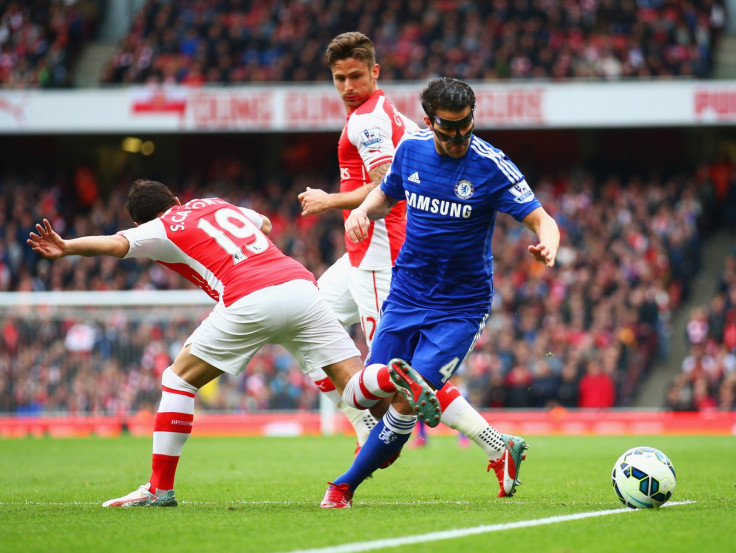 Chelsea star Cesc Fabregas has claimed he believes in himself "more than anyone" and is not worried about the criticism he has received during the first weeks of the campaign. The former Barcelona midfielder scored a goal and provided an assist to Diego Costa in the 4-0 Champions League victory over Maccabi Tel Aviv on 16 September and is ready to help his side in the vital forthcoming Premier League game against Arsenal.
Fabregas enjoyed an impressive start at Stamford Bridge last season following his arrival from Barcelona in the summer of 2014. However, the Spanish midfielder struggled to keep that level on a consistent basis both during the second part of the last campaign and in the first games of the current season.
Many have singled out him and his midfielder partner Nemanja Matic for the club's poor start in the Premier League after Chelsea suffered three defeats in their first five games of the campaign. Reports even suggested manager Jose Mourinho was ready to drop him for the Champions League game to give him a rest ahead of the London derby and encourage him to make a reaction.
But Fabregas kept his place in the line-up and responded to the challenge with the fourth goal of the game after assisting Diego Costa for the third in the win against Maccabi.
"I believe in myself more than anyone. Everyone has their doubts when you are not playing well and you don't get the results you want but I have been playing too long to worry about stuff that is not important. What is important is my form, getting that good and to be confident." he said to Chelsea's official website.
"My confidence is always high, that is not a problem, but sometimes things don't go well for you for many reasons, but as soon as we realise like we did in this game that we are a fantastic football team, we can compete against the top teams. We won a lot last year and we have to show it this year."
The Spaniard claimed the win over Maccabi was vital in Chelsea's bid to regain confidence and he he is aware the game against former side Arsenal on 19 September will tough.
"He [Mourinho] said this is a different competition, nothing to do with the Premier League so we just have to focus on it, and we want to be first in the group. This was a vital win, a top performance from start to end and we need Chelsea to play like this week in and week out. Hopefully it is the start of a long run for us to put smiles back on our faces and get the confidence back," he said.
"We didn't start the season well and when you see Chelsea so far down the table, you have to check twice to make sure this is happening. We have a big game again on Saturday so we must not rest and enjoy this week's win. We just want to get another win and then we will see what happens.
"We just have to win. It is a London derby, we know Arsenal are a quality team, they play top football and it will be tough but we want to win and we can achieve that on Saturday."