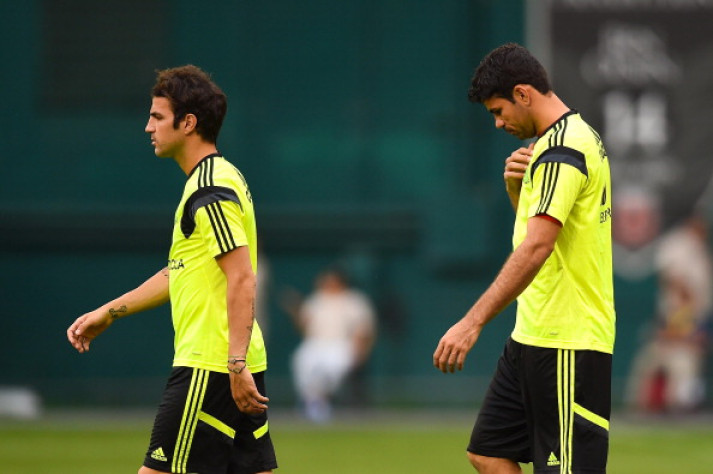 Chelsea midfielder Cesc Fabregas has told IBTimes UK the Blues badly missed Nemanja Matic during the defeat to Newcastle United but he played down concerns on Diego Costa's goal drought.
Having started the first 14 Premier League games of the season, along with the Champions League fixtures, the Serbian missed the match against Newcastle due to suspension. Jose Mourinho's side ended up suffering their first defeat of the season, putting an end to their 23-game unbeaten run.
After the Serbian midfielder returned to the line-up for the Champions League game against Sporting Lisbon to lead the Blues back to winning ways, Fabregas admitted he missed his midfielder partner at St James Park.
"Of course we missed him. Players like Matic are always missing when they don't play. He is playing really well this season and having him in the team is very important for us," Fabregas told IBTimes UK.
"But we had bad luck. We created many chances. The team responded well to the two goals. We scored one [by Didier Drogba] and we were close to secure the draw. The most important thing was to react from it and we did against Sporting."
Meanwhile, Fabregas' compatriot Costa extended his goal drought to four games after failing to score in the 3-1 victory over Sporting, having already missed the target at St James Park.
After an impressive start to life at Stamford Bridge, scoring 11 goals in his first 10 Premier League appearances, the Spain international has not scored since the win over West Bromwich Albion on 22 November.
After the Champions League victory against Sporting, Mourinho admitted that even though Costa played better than in the loss to Newcastle his "confidence was [still] not high" but he wanted to use the game to build on it.
However, Fabregas played down any concerns over the striker's performance and hopes he will score in the game against Hull City on Saturday 13 December.
He said: "I haven't seen him low on confidence. He is a very strong guy. He knows that even when he doesn't score, he gives a lot to the team and this is what really matters to him."