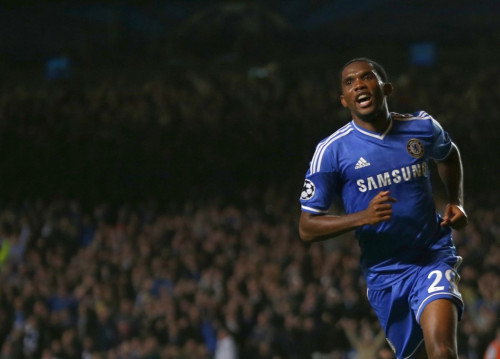 Samuel Eto'o remains cautious about Chelsea chances of winning the Premier League and even claims that the Blues would consider the season good even if they finishing in the second place.
After Arsenal's humiliating 5-1 defeat to Liverpool and with Manchester City drawing at Norwich City, Chelsea moved to the top of the Premier League last Saturday following their 3-0 victory over Newcastle United.
Nevertheless, Eto'o says that Chelsea are facing a transitional campaign and suggests that they are not going to win any trophies this season.
"We are one of the competitors and if the occasion presents itself we must try to take advantage of it," Eto'o told Chelsea's official website. "We are top now and we are going to try to finish at the top, but it's not our obsession. If we finish second it will have been a very good season.
"Chelsea have always been strong. We are one of the best teams in England and we are always trying to be top. That is serving us well right now. I'm not going to hide, if the chance to finish first is there we will look for this first place.
"It's been a great week but there are still 13 matches of the season to go. We need to look to get all these points and hope that we are the first."
Eto'o has taking advantage of Fernando Torres' injury to return to his best and despite not scoring against Newcastle he was crucial in two of them – assisting Eden Hazard for the second and winning the penalty that allowed the Belgian to complete his hat-trick.
"He's been brilliant this week, but not only this week. We can only hope he will keep on playing like this," Eto'o said of his team-mate.
"The second goal was Eden's goal and I just played the pass that was necessary for him to score the goal. More and more I have been showing what I like to do, playing football. Every game, I try to do something to help the team."