Diego Costa is again subject to mounting scrutiny in Spain after the Chelsea hitman had another feeble performance for his national team during the 1-0 victory over Macedonia last night (8 September). Costa not only failed to find the net but also picked up a yellow card that will force him to miss the crucial Euro 2016 qualifying game against Luxembourg on 9 October.
The 26-year-old striker has flattered to deceive with Spain since he made the decision to play for La Roja in 2014, despite being born in Brazil. Costa scored 20 Premier League goals in 26 outings for Chelsea last season, but has only netted once for Spain in nine matches since making his debut in a friendly against Italy in March 2014.
Some in Spain made him a scapegoat for the nation's disastrous World Cup campaign in 2014, while his commitment to the country has been questioned by many, including Real Madrid defender Sergio Ramos, in the aftermath of him pulling out of clashes with Belarus and Germany in November 2014 citing injury – even though he had played a full game for the Blues just days before. Costa claimed last week he was eager to prove the haters wrong during the international break but instead extended his goal draught in the victories over both Slovakia and Macedonia – despite starting both games.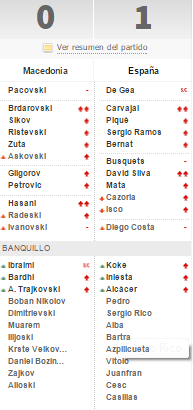 Spanish newspaper AS rated Costa's performance in one match report as a zero, adding: "The more effort Diego Costa makes, the more he loses himself and his dark side starts to emerge, manifesting itself in roughness and brawls. He was shown a yellow card, received one or two ill-tempered kicks and was taunted by the Filip II faithful. At this stage, it seems an impossible task to soften the rough edges of his playing style and temperament. On the hour it became clear to the coach that things could only get worse and he was retired and replaced by Paco Alcácer."
Costa admitted he needs to improve his form and confessed he was unaware of his forthcoming ban until journalists mentioned it do him.
"I'm suspended against Luxembourg? It's the first I've heard about it," he said to AS after the game. "I've got a lot to improve and I've got to start scoring goals. There will be no lack of effort on my part. I'll keep working hard at my club to improve. I am always filled with ambition whenever I get called for the national team. On a personal level I am not happy because I didn't manage to score tonight although I'm happy with the victory. We've gained three points which are important for our qualification."
Costa will be available for the last qualifier of the campaign against Ukraine on 12 October, but Del Bosque will have to decide whether is worthy to include him in his squad if he is unable to play the previous game. The Spanish gaffer said the entire side underperformed in the two recent matches, refusing to finger Costa for criticism specifically.
"We should recognise that we didn't play well. We didn't show our better side tonight. It wouldn't be fair to single out one player; we scored one goal and there was an element of luck to it. All of the basics of football we did badly and we only won by sheer chance. It's difficult to give an explanation for what happened but it wasn't for lack of motivation", he said. "Our level was low, both collectively and individually. We can't point the finger at anyone. Diego Costa played the same as the others".