Vicente del Bosque admits Manchester United outcast Victor Valdes was close to making return to Spain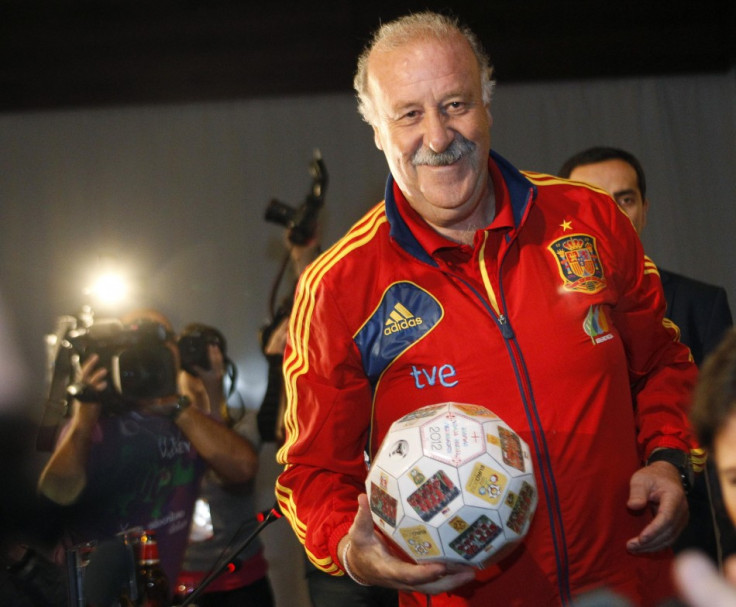 Spanish national team coach Vicente del Bosque has revealed he was very close to including Victor Valdes in his 23-man squad for their upcoming games, despite the keeper's exile at Manchester United under Louis van Gaal. Del Bosque admitted his decision to not call him up was "cowardly", as the former Barcelona keeper needs the support of his national team in these tough times.
Valdes served as back-up for Iker Casillas and Pepe Reina during Spain's successes in both the 2010 World Cup and the 2012 European Championship. However, he missed the 2014 World Cup in Brazil after suffering a serious knee injury in March of that year.
Since that injury, Valdes has been beset by ill fortune. After deciding to leave Barcelona on the expiry of his contract with the Catalan side, he was expected to join Monaco. However, the Ligue 1 side backed out of an agreement with the goalie due to his injuries. Van Gaal, who had been Valdes' first manager at Barcelona, handed him the chance to complete his rehabilitation from injury at Manchester United's training ground, before signing him as a back-up to David de Gea in January.
But Valdes fell out with the Dutch boss over a refusal to play with the Under 21 side. He was expected to leave Manchester for Turkish outfit Besiktas, but the deal came to nothing. Van Gaal has continued to freeze Valdes out this season, opting against including him in the Manchester United Champions League squad.
Even though Valdes has played few times since his injury over a year ago, Del Bosque admitted he was close to making a shock return to the national team.
"We have been very close to bringing Valdes back to the national team. It was a moment when I think it would have been good for him to be with us again. Sincerely I regret not having included him in the squad," Del Bosque said to La Sexta. "Why we don't bring in and help a guy who has been very good for the Spanish national team? And I know that the national team is not charity but maybe Valdes needed a boost, a support, and and in the end we didn't give it to him. Maybe we been cowards to not do it. I think we have to have feelings and humanity. "
Del Bosque, meanwhile, insisted De Gea must regain his place at Old Trafford if he wants to keep his spot in the national team ahead of the Euros. "I just said something obvious. He needs to be active."
© Copyright IBTimes 2023. All rights reserved.