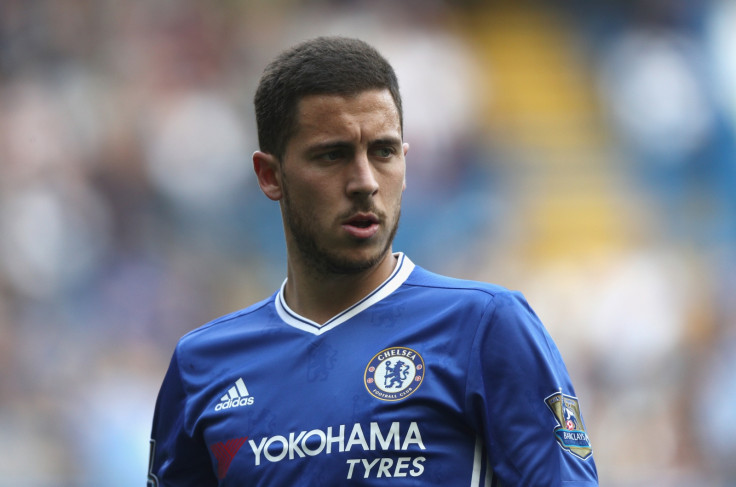 Chelsea star Eden Hazard has revealed he cannot wait to face Jose Mourinho's Manchester United side. The 25-year-old Belgian insists he relished working with the outspoken coach during his second spell at Stamford Bridge, and he is looking forward to playing against the Portuguese's new-look United side.
Mourinho was sacked by the Blues in December 2015, but signed a three-year deal with their Premier League rivals on 27 May. Hazard – who has been linked with a move to Old Trafford in light of Mourinho's move – said he is looking forward to competing against his former boss.
"Mourinho is a fantastic manager. I wish him good luck for the next season," the Chelsea star told Sky Sports. "I can't wait and just want to play against Manchester United. He's a good manager with a lot of experience. He's at a big club now and he will just want to win games."
The talented midfielder – who has also been linked with a move to Real Madrid over recent months – has committed himself to Chelsea next season and revealed he is looking forward to working with new manager Antonio Conte.
"I'm happy. I'm always happy. I have spoken to [new boss] Antonio Conte," the Chelsea star said. "He said good luck at the Euros and we will see after the Championships."
Meanwhile, Hazard thinks he has rediscovered his top form in recent weeks and is eager to play a starring role at Euro 2016. Asked if he was back to his best, Hazard said: "I hope so. I want to be one of the best players at Euro 2016 and I hope we can get to the semi-finals or the final with the team. We have a lot of quality."