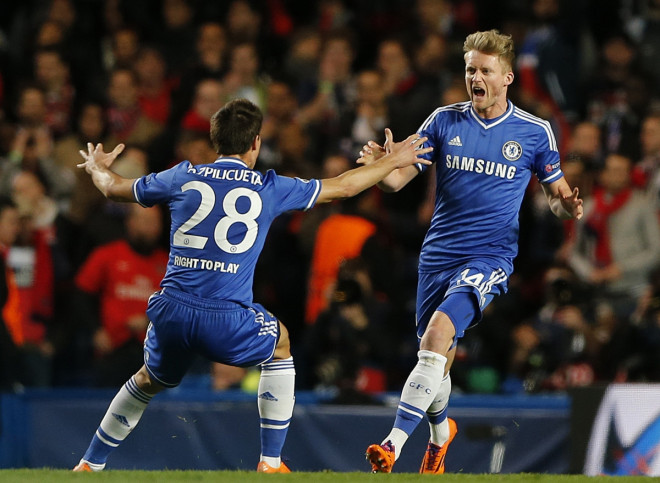 Chelsea playmaker Andre Schurrle says he wants Bayern Munich, the team he supported as a kid, in the Champions League semi-final draw.
After seeing off Paris Saint Germain 2-0 in the second leg of their quarter-final, Jose Mourinho´s side at least know they will be in Friday's draw with Real Madrid, the night's other quarter-final winners.
Meanwhile, Barcelona face Atletico Madrid while Bayern will battle Manchester United on Wednesday for the remaining two semi-final berths.
Speaking to the Evening Standard Chelsea's goa-scoring hero Shurrle said: "The team I supported when I was young was Bayern. They are the biggest team in Germany.
"Almost every kid supported them. It's not like that I'm really looking forward to playing against them, not like a big fan, but it will be great to be in the semi-finals."
Schurrle replaced Eden Hazard after just 14 minutes in the 2-0 victory over PSG, scoring the opener and being one of the best players of the match.
The German winger believes Chelsea are now the team that the others want to avoid.
"I don't think anyone will want to play us in the last four because when you have nights like this at Stamford Bridge, overcoming a 3-1 defeat, they know it's not over," said Schurrle (above right, celebrating at the final whistle).
"No one will want to play against Chelsea at Stamford Bridge. Chelsea players never give up and you see that in this club. Players like John Terry and Frank Lampard have seen everything and been through it all before. They talked to the team beforehand and told us that we can do it. Everyone believed them and it was great.
"I have had many great nights with the national team but this is for sure one of the best of my career.
"When I came on, the manager told me to play my natural game because I have played well in the last matches. I wanted to give everything. I wanted to get some easy balls as it's difficult to come off the bench and into the game. That what I wanted and it went well for me."