Chelsea striker Diego Costa admits he returned to manager Antonio Conte "with his tail between his legs" after failing to seal a return to Atletico Madrid last summer. The fiery frontman, currently on international duty with Spain ahead of matches against Israel and France, also does not rule out the possibility of a future move to China.
Costa's desire to rejoin a club with whom he won a La Liga title and the Copa del Rey in addition to reaching a Champions League final has never been much of a secret, with Atletico president Enrique Cerezo claiming in July 2016 that an agrrement to take the 28-year-old – who followed an explosive first year in English football with a disappointing sophomore campaign that led to his eventual omission from Euro 2016 – back to the Vicente Calderon was close.
Such a deal never came to pass, although Costa confirmed earlier this year that he did have the option to return to Atletico and was "about to leave" due to family and lifestyle reasons that had nothing to do with his happiness at Chelsea.
Expanding further on that whole saga during a recent interview with Cadena Ser radio sports programme El Larguero relayed by Sky Sports, he said: "Atletico knows I have a special feeling for the team, I lived the best moment of my career there. [Manager] El Cholo [Diego Simeone] knows it wasn't impossible for me to come back to Atletico.
"The relationship with Conte didn't start well because when he arrived I told him I wanted to go to Atletico. Chelsea's fans love me a lot, even more than in Atletico, figure that. When Atletico had to wait for me they didn't, there was still a month to go in the transfer market. I've done everything to come back to Atletico Madrid but I wouldn't fight the same to return. When Atletico didn't wait for me, I had to go to Conte with the tail between my legs."
Costa quickly recovered his form during the opening months of Conte's first campaign at the helm and was the Premier League's top scorer in January when his Chelsea future was again subject to intense speculation amid reports of a training ground row with the manager and fitness coach Julio Tous over a back injury.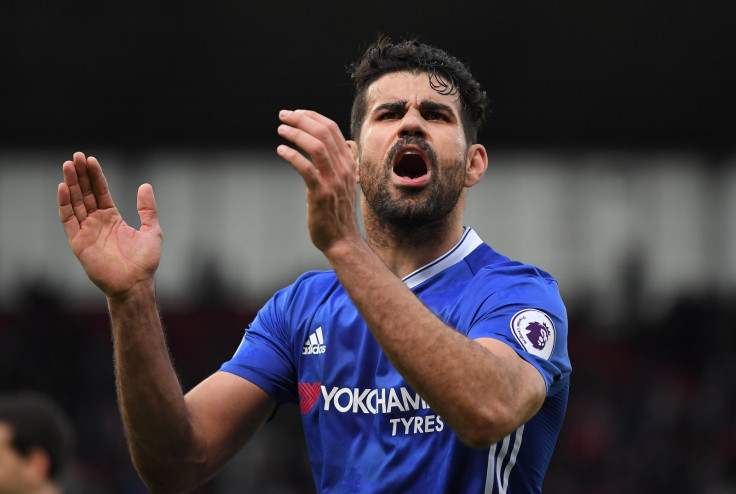 It subsequently emerged that the former Real Valladolid forward, who was left out of the squad for a 3-0 win over Leicester City before making a quick return against Hull City one week later, had also been the subject of an eye-watering offer from China believed to be worth in the region of £30m-per-year. Owner Shu Yuhui later confirmed that Tianjin Quanjian had been interested in Costa and that he had met with agent Jorge Mendes.
In February, Cadena Ser reported that Costa, currently under contract until 2019, had already agreed a summer transfer to an unnamed Chinese club that would be worth €30m-per-year to him and €85m to Chelsea.
When asked if a switch to the CSL was still a possibility, he said: "In life, anything can happen and I do not close the door to anything. In football you are worth what you are worth when you are good. And why not? But right now I am good at Chelsea...I have two years left on my contract and I intend to fulfil them.
"But you never know. It's not impossible to reject it because there are things to assess. You have to think about it all. I do not rule out anything. If they come with something for Chelsea and the club tell me to go...I can go to China or elsewhere."