Chelsea vs Tottenham Premier League: Spurs Stop Blues Cold, Hold on to Champions League Position [VIDEO]
The Battle at Stamford Bridge ended as it began... with the scorers untroubled.
Billed as a crucial and must-win game, particularly for Chelsea, the Premier League game between the hosts and Tottenham wound down to a rather anticlimactic finish; Spurs are now absolutely in pole position to beat Chelsea in the race to a top four finish in the league this season.
The reward - Champions League football next season.
Roberto Di Matteo, Chelsea's interim manager, who has masterminded four wins on the trot following the club's sacking of former boss Andre Villas-Boas, sent out as strong a team as he could for this game. Ivorian striker Didier Drogba, who was reportedly unhappy at being only a substitute in the 1-2 defeat to Manchester City in the Blues' earlier league game, was given the nod up front, ahead of the still misfiring Fernando Torres. It was a fairly predictable line-up otherwise, with Juan Mata and Daniel Sturridge providing Drogba company going forward, while Michael Essien, Ramires and Frank Lampard manned the midfield. In the absence of David Luiz and Branislav Ivanovic, Di Matteo paired new signing Gary Cahill with John Terry, while Jose Bosingwa made a rare start on the right.
The Blues had a reasonably versatile bench, with French winger Florent Malouda joining Torres, Salomon Kalou, Raul Meireles, Luiz and John Mikel Obi in watching the game from the touchline.
Spurs meanwhile were able to call on leading scorer Emmanuel Adebayor, after injury concerns threatened to rule him out. The on-loan striker was joined by Dutchman Rafael Van der Vaart and Welshman Gareth Bale, with Scott Parker, Luka Modric and Sandro providing midfield cover ahead of Younes Kaboul, William Gallas, Assou-Ekotto and Kyle Walker. Tottenham had Defoe, Saha, Kranjcar, Rose and Livermore on the bench.
The game itself got off to an exciting start. The hosts should perhaps have been in front after just five minutes - unfortunately somehow both Drogba and Lampard contrived to get in each other's way and Spurs cleared the danger.
Buoyed by home support and the knowledge they may not play in the Champions League next season, the Blues had the better of the opening exchanges. The highlight of those exchanges was a call for a penalty, just short of the half-hour mark, when Gallas seemed to trip Lampard as he tried to reach a Mata through ball. However, Martin Atkinson waved the incident away.
Chelsea continued to dominate the game... although they were struggling to create anything of note and Spurs, with Bale's pace, Van der Vaart's range of passing and Adebayor's strength up front were looking dangerous on counterattacks.
The deadlock continued to half-time.
The second half saw a slightly more adventurous Spurs side, who were perhaps beginning to realise their hosts were not quite the threat they thought they were. Chelsea, meanwhile, must have had an earful from Di Matteo. The opening exchanges saw Drogba and Sturridge work the Spurs defence. Essien, in the thick of all the action, found himself yellow carded for a foul on Modric.
Tottenham, meanwhile, answered with shots from Walker and Adebayor. Bale's pace was proving to be a real nuisance for Chelsea down that right flank. However, Di Matteo responded with a rather bizarre move - taking Bosingwa off for David Luiz.
Calls for a second Chelsea penalty were then ignored and, as the match entered its closing stages, it all became a little too physical. At one point, Assou-Ekotto, Mata and Ramires were all in a heap on the floor, while Sandro, Essien and Van der Vaart also had occasion to get into each other's faces.
In the dying moments, Mata hit the post with a free-kick (and both Drogba and Luiz missed the rebound), while Modric set-up Gallas with an easy header, which the Frenchman missed, at the other end.
Chelsea now have 50 points from 30 games. They next play Benfica away, in the first leg of their Champions League quarter-final tie, on 27 March. Their next league game is on 31 March, when travel to Villa.
Tottenham now have 55 points from 30 games. They will next play Swansea, at home, in a league game on 1 April.
Final Score:
Chelsea 0 - Tottenham 0
Check out video highlights:
Chelsea 0-0 Tottenham highlights 24.03.2012 by vik2003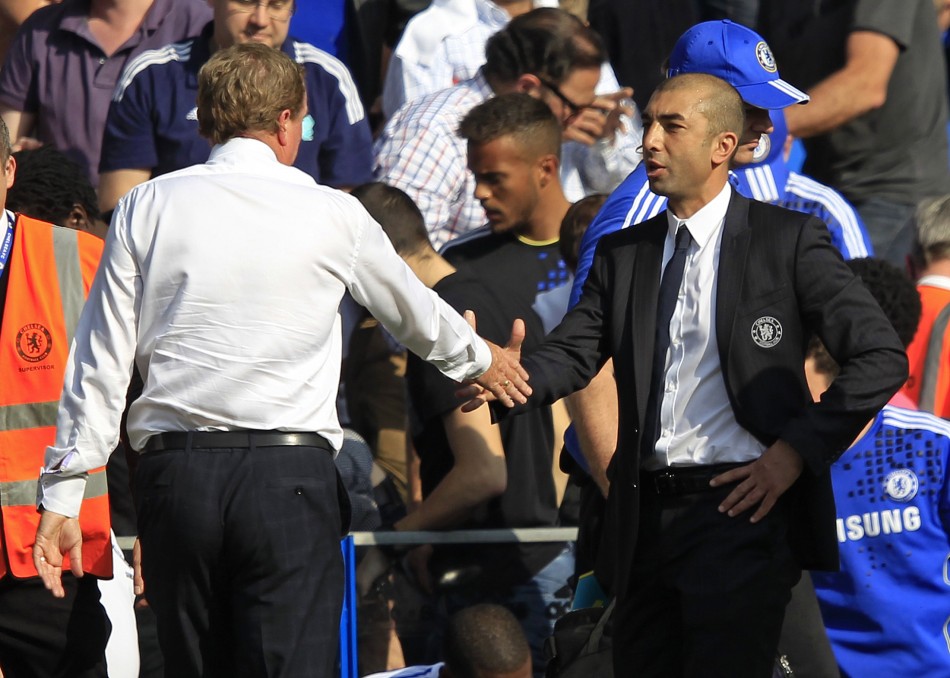 © Copyright IBTimes 2023. All rights reserved.