Chelsea transfer news: Antonio Conte would sanction Diego Costa exit once he secures Gonzalo Higuain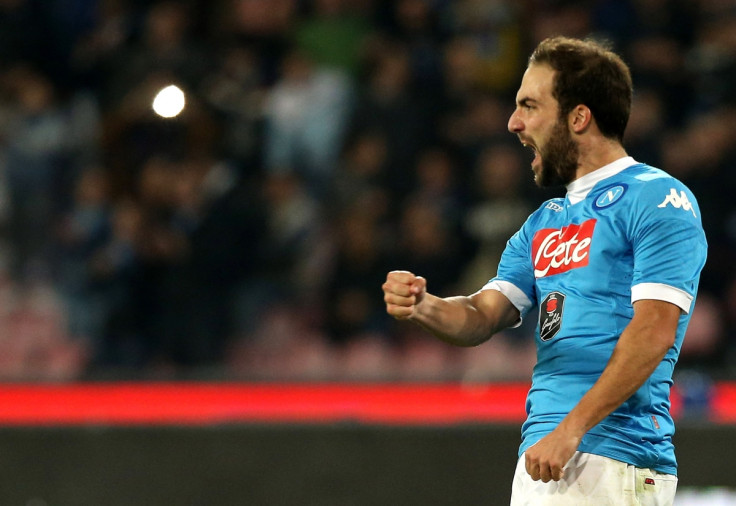 KEY POINTS
Napoli striker has a £78.7m release clause in his contract.
Diego Simeone wants Spanish striker back at Atletico Madrid.
Chelsea are ready to step up negotiations to secure the services Gonzalo Higuain following the arrival of Michy Batshuayi, according to AS. The Spanish publication claims that the Napoli striker's move to Antonio Conte's side would put "Diego Costa closer" to returning to Atletico Madrid on the assumption that once the Blues have two top strikers, the departure of the Spaniard will be sanctioned.
Diego Simeone, Atletico Madrid's boss has earmarked the signing of a proven top scorer as the main priority for the current transfer window after Jackson Martinez was sold to China in January.
Higuain, Pierre-Emerick Aubameyang, Carlo Bacca or Kevin Gameiro have all been named as potential candidates but it is widely believed that Simeone's preferred option would be a reunion with Costa.
Costa has also hinted he was keen on a return to the Vicente Calderon but the move has been under scrutiny due to Conte's reluctance to let him go.
But AS claims that the situation was set to change should the new Chelsea manager secure the services of Higuain to fill his gap.
The Blues have already announced the signing Batshuayi from Marseille. But following the departures of Pato and Radamel Falcao, Conte would need another number nine to complete his attack should Costa leave.
Chelsea have also been linked with Alvaro Morata in recent weeks but AS claims the Blues have now turned their attention to Higuain after the player's brother recently revealed that the Argentinian has decided against renewing his deal at Napoli.
"We arrived with the hope of Champions League football, to be Italian champions and to grow," he told Radio Continental. "It is your right to request the termination clause, but we opt for the path not to renew the contract and be free in 2018. Under these conditions we will respect the contract we have with Napoli but we will not be renewed under any circumstances."
This revelations are expected to force Napoli's hand in negotiating his departure during the current transfer window and AS believes the two-way deal which will see him moving to Chelsea and Costa returning to Atletico Madrid is now "closer" to happening.
Atletico were also monitoring the situation of Higuain after the former Real Madrid star scored 38 goals in 42 appearances for the Italian outfit last term.
AS claims that Napoli are still demanding his €94m (£78.7m, $104,6m) release clause before parting ways with him. But after Chelsea paid £33m to sign Batshuayi the Spanish publication claims the west London club would be ready to make another effort to sign Higuain to complete Conte's attack.
Atletico would however fund a big part of the move with the signing of Costa as recent reports claimed that Los Colchoneros were ready to make him the the club's record transfer. Recent reports in Spain also claimed the club has already offered more than £41m to secure his services.
© Copyright IBTimes 2023. All rights reserved.