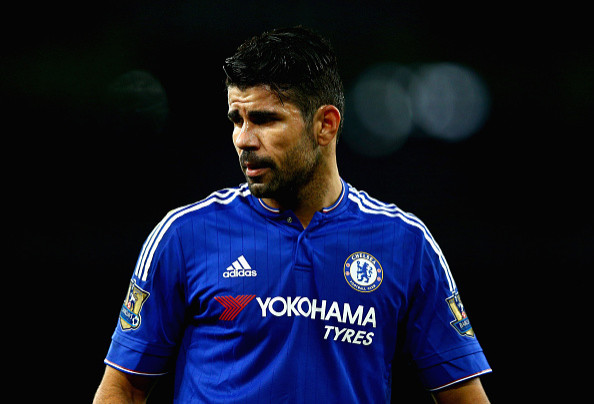 Atletico Madrid president Enrique Cerezo has admitted luring Diego Costa away from Chelsea this summer will be "almost impossible", even if the Spaniard wants to go back to the Vicente Calderon. The club chief's pessimism come after reports suggested new Chelsea manager Antonio Conte has identified the 27-year-old as a vital part of his Stamford Bridge project.
Costa has been linked with a move back to Diego Simeone's side since last summer, after it emerged that he had failed to adapt to life in London. The situation has worsened in the current season, with the Chelsea striker disappointed by his treatment from English journalists, officials and even the FA, as he is currently serving his second three-match ban of the season.
Costa suggested in December last year that he would be open to following in the footsteps of Filipe Luis and returning to Atletico Madrid, as part of an interview with Onda Cero.
"You never know – look where Filipe Luis is now. Life is full of surprises," Costa said. "I always wish Atletico the best and I always follow them, I support them from afar."
Cerezo later claimed Atletico would "make every effort" to lure the player back to the Calderon, as they had money to spend following the departure of Jackson Martinez to Chinese Super League club Guangzhou Evergrande for around £31m ($44m).
Marca, however, claimed last week that Atletico were ready to turn their attention elsewhere as they has grown increasingly resigned to the idea of not getting Costa, due to Conte's reluctance to let him go.
Cerezo has now confirmed that regardless of Costa's reported intentions to go back to Atletico, the club feel they will miss out on the striker after Chelsea officially announced Conte as their new head coach. Yet, the club president admits he still has a close relationship with the Spaniard.
"I can tell you one thing. I've talked many times with Costa, once every two or three months, since he left for England. What is clear is that Diego Costa has a contract at Chelsea for a few years more and contracts are made to be respected. We would be happy to have Costa, [Diego] Forlan, [Sergio] Aguero... and everyone here, but every player has his contracts and his obligations," Cerezo said to Onda Cero when asked if Costa has already told them that he wants to go back to the Calderon.
"There are many times that as much as I want [to sign] a player and as much as the player wants [to join us the deal don't go through]. The contracts are there and contracts with English clubs are not like here [in Spain the players have a release clause that let them to move away if a club meet a certain fee]. Negotiations with Chelsea will be very tough, almost impossible. Besides that Diego is a star at Chelsea."