Chelsea new signing Eden Hazard has admitted he is keen to play alongside his brother Thorgan, whom the Blues signed from Ligue 2 club Lens. The 19 year old Thorgan is presently with the European champions' U21 side.
The capture of Eden Hazard cost Roman Abramovich over £30m and the former Lille star arrived at Stamford Bridge with all that pressure on his shoulders. Thorgan, meanwhile, has signed on relatively more unnoticed but Eden is confident his younger brother is set to shine with Roberto Di Matteo's side.
"My brother is not the same as me because he is not someone who dribbles a lot. He is more someone who has a passing game in midfield. He can play on the wings also but his best position is in central midfield, a number 10," Goal.com quoted Hazard as saying, and adding, "Despite both of us having been at Tubize, we have never played in the same team, so I hope I can play soon alongside my brother in the national team and also for Chelsea."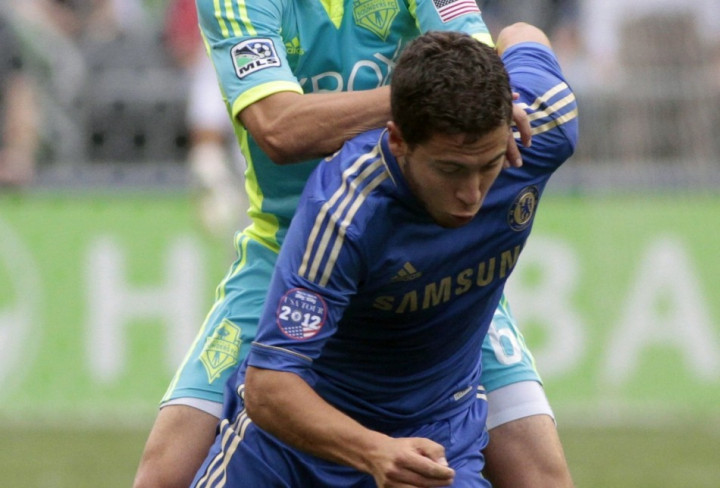 Incidentally, there are two more Hazard brothers out there... just so Abramovich knows. Kylie Hazard is 16 years old and has just signed a youth deal with Lille, while seven year old Ethan is with the youth programme of Eden's former club AFC Tubize.
"I had my father as a coach for one year and he also followed me after that but not as a coach, more as a fan. It was really after the game that he was talking, saying what was good about my game and what wasn't," Eden explained.
Choppy Chelsea
Meanwhile, Ron Gourlay, the Blues' chief executive, has dismissed concerns over his club's inconsistent pre-season form. The club was in the US and won their first game convincingly, beating MLS side Sattle Sounders 4-2 in their first game (both Eden Hazard and fellow new signing Marko Marin scored). After that though, they could only manage a draw against French club Paris St Germain (PSG) and lost to the MLS All-Stars and Italian club AC Milan.
Instead, Gourlay focussed on the fatigue exhibited by some players and the lack of fitness after a long 2012 European Championship. He explained the club had to forget pre-season results and focus on the Community Shield and the new Premier League season.
"People expect us to win every game we play, but it can't always be like that, and in pre-season we have other measures, such as the intensity of training which has been very, very good. Results will come, of course the fans always like to see us win, even in pre-season, but more important is that we are ready for the Community Shield and the start of the Barclays Premier League a week later when we play Wigan," Gourlay told Chelsea's official Web site.