Rafael Benitez is planning a sensational January move for Barcelona forward David Villa, in order to complement Fernando Torres in Chelsea's attack. Villa, who was sidelined for the majority of last season, has started just one Champions League and six La Liga games for the Catalans this term and rumours suggest the 31 year old might be allowed to leave the Nou Camp on a temporary basis.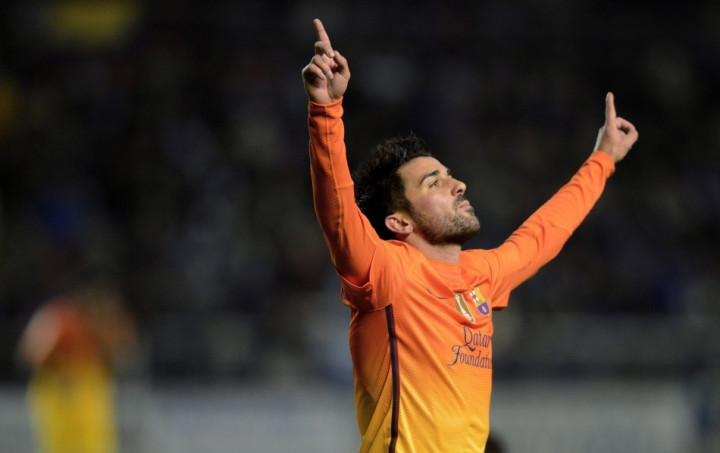 The European champions are set to lose England international Daniel Sturridge to Liverpool when the January transfer window opens and Benitez is keen to add an experienced and proven goal scorer to the ranks at the Stamford Bridge club.
The Daily Mail suggests Villa, a former Valencia star, has emerged as the leading contender for the role, particularly since Colombian international Radamel Falcao, believed to Roman Abramovich's priority target, has confirmed he is in no hurry to leave Spanish club Atletico Madrid.
Torres' performances have improved greatly since the former Liverpool boss took charge at Bridge as an interim manager and the striker has now scored seven goals from six matches. The Spanish tactician believes additional support and cover for the Blues' £50m signing will only improve those performances and he sees national team mate Villa as the perfect foil.
The Mail's report claims Villa is likely arrive on a loan deal. However, The Sun reports a more permanent offer has already been discussed, with a fee of approximately £12m. The latter's report also quotes Spain's top goal scorer as admitting an interest in playing alongside Torres. However, the Catalan club's director of football, Andoni Zubizaretta, confirmed on Christmas Eve that it was highly unlikely Villa would leave the club mid-season.
Meanwhile, there is also interest in Villa's services from Arsenal. However, the striker may opt for Chelsea since it will allow him to continue playing in European competition - Chelsea have been demoted to the UEFA Europa League this season, while Arsenal have advanced to the knock-out stages of the Champions League. However, under UEFA rules, players have played in one completion for one club cannot play for another in the same season; they can play in different tournaments though.
Cahill: Benitez Winning Supporters
Finally, Chelsea defender Gary Cahill feels Benitez has started to win over the hostile section of the club's supporters, after the Blues' 8-0 win against Aston Villa at the weekend. The former Liverpool boss continues to be booed by large sections of the Stamford Bridge crowd but Cahill insists fans will warm towards their manager if Chelsea can continue this good run of form.
"There won't be one of our fans watching who didn't enjoy our display and hopefully we can continue and I am sure we will win people over with performances like that. We showed what we are capable of and it is just a matter of consistency now," the England international told ESPN, "We have a lot of young players but on a day like Sunday you can really see the quality in the squad. If we play like that we won't go far wrong."
Chelsea travel to Norfolk to take on Norwich City in a Boxing Day Premier League fixture.