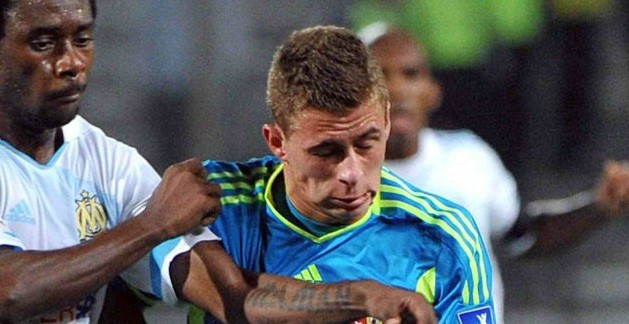 Chelsea have confirmed the signing of Thorgan Hazard from Ligue 2 outfit Lens. The 19-year-old is the younger brother of Eden Hazard, who completed a move to the west London club earlier in the summer.
Thorgan is two years younger to Eden but is of similar height and build and plays in similar attacking positions to his brother. The player made 14 appearances for Lens last season and also represented Belgium in the U19 European Championships.
The midfielder will now join Chelsea's U21 squad headed by Dermot Drummy, while a loan move is being contemplated to fast forward his development. The club has had a few young players on loan last season - notably Josh McEachran - who plied his trade at Swansea City. However, the midfielder did not gain much playing time with the Welsh club, much to the disappointment of the Blues. The European Champions will look to avoid a similar situation with Thorgan, as the youngster might need some time on the field before he can start for the Londoners, given he is coming from a less competitive league.
Chelsea have also confirmed that three players in their ranks have gone out on for season-long loans. Attacking midfielder Ulises Davila has joined Spanish second division outfit Sabadell, while striker Milan Lakovic and goalkeeper Matej Delac have joined Portuguese top-flight club Vitoria Guimaraes.
Meanwhile, Manchester United manager Sir Alex Ferguson has criticised Chelsea's transfer policies, especially the big-money signing of Eden Hazard.
"There is a borderline in terms of what you would think is a good signing for United. I see some values on players, like Hazard for instance. To me it was a lot of money. He's a good player, but £34m? What we're finding anyway, the climate for buying these top players - not just the transfer fees, the salaries, agents' fees - is just getting ridiculous now. In the Hazard deal, Chelsea paid the agent £6m," the Daily Mail quoted the Scot as saying.
"It's all about what you think is value for a player. I am not envious of those deals at all. We placed a value on Hazard which was well below what they were talking about. So if it doesn't work, well we're not worried about that. We think we've got good value in (Shinji) Kagawa," Ferguson added.