Chelsea legend Frank Lampard has reportedly agreed a 12-month contract extension with the Stamford Bridge club. The 34-year-old England international wrote his name in the west London club's record books last weekend, with a brace in the 2-1 win over Aston Villa that confirmed him as the all-time leading goal scorer for the Premier League giants.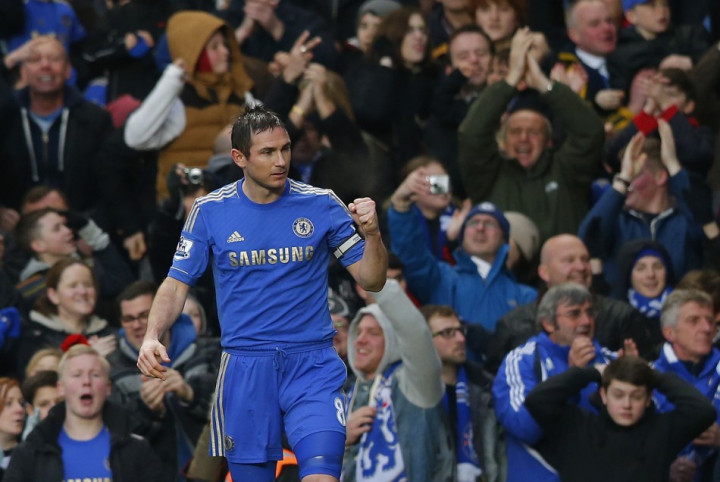 Goal.com believes Roman Abramovich has offered Lampard a revised deal which includes a pay cut from the approximate £150,000 per week he presently earns. It is understood that Lampard's decision to sign was likely because he wants a reunion with former manager José Mourinho; the Real Madrid manager is strongly expected to re-sign with the Blues for next season, leaving his post at the Santiago Bernabeu.
Lampard's present contract expires at the end of the season and it seemed certain he would not be offered an extension, despite the fans protesting the decision. The midfielder was linked with a move to Los Angeles Galaxy last summer and was also connected to Lazio in January and Chinese clubs Shanghai Shenhua and Beijing Guoan, both of whom were reportedly ready with £250,000 per week deals.
All the speculation now seems to be for nothing, with Goal.com claiming a formal announcement regarding the new contract will be made on Sunday, the final day of the 2012/13 season, when Chelsea host Everton.
Lampard will captain the club in Wednesday evening's UEFA Europa League final against Benfica (read IBTimes UK's preview), in the absence of centre-back John Terry. And in the pre-match press conference, he admitted he came close to following Mourinho out of the club in 2008.
"The closest was Inter Milan with Jose in 2008, the idea of challenging myself to do something different and going with him because he was such an influence on my career. In the end I wanted to stay for personal reasons. That was the one time when I was close. It's turned out to be the right decision," the midfielder explained.
Lampard has enjoyed an absolutely brilliant season in the Premier League, with 15 goals from 20 starts and four assists in six Europa League games.