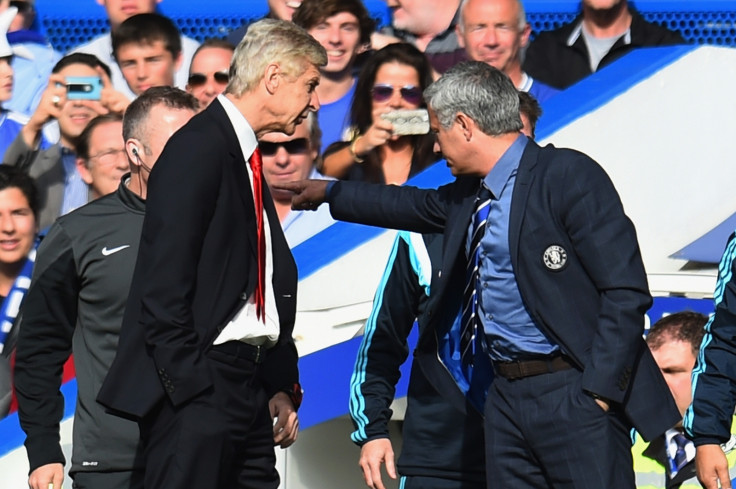 Arsene Wenger believes Arsenal's Community Shield victory over Chelsea has lifted a mental block, as he prepare for another dust-up with old adversary Jose Mourinho. Wenger celebrated his first victory over the Portuguese coach in 14 attempts when the Gunners secured a 1-0 victory at Wembley in August. The game was also made memorable by the managers refusing to shake hands after the game, the latest instalment in their increasingly bitter feud.
Arsenal come into Saturday's (19 September) game off the back of a woeful defeat to Dinamo Zagreb in their opening Champions League game on Wednesday, but Wenger believes his players will have no problem refocusing on the clash with their London rivals.
"People come to football to watch football, all the rest is a bit secondary," Wenger told a press conference, Get West London reports. "What you expect from these games is high intensity, full commitment and you want to prepare for that and play with full focus.
"For me what is important is that Arsenal win the game. It can sometimes be a mental block for the players or a team when they do not beat a team, so on that front it was good to win the Community Shield, yes.
"I don't use the early kick-off as an excuse. I knew time would be short and I took the [selection] decisions [in midweek] a little bit linked with that. We must forget cheap excuses and focus on the performance of the day. We are in a position where we can perform."
Arsenal goalkeeper Petr Cech is likely to make his second appearances against the club he represented for 11 years. The 32 year old kept a clean sheet in their meeting at Wembley in August, and Wenger believes the former Blues stalwart can provide some more insider information – although he won't be relying on it.
"A little bit of extra yes but there is no big secret other than on the day perform your best and perform together," Wenger said. "Our individual performance will be better than what he knows. There is no big secret in that."