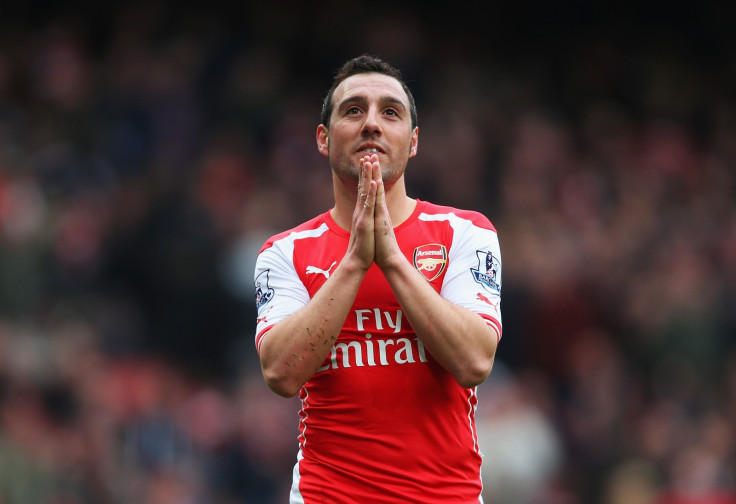 Arsenal star Santi Cazorla believes Manchester City's impressive start in the Premier League make them the "big favourites to win" the title but predicts there will be much change before the end of the season. The Spanish playmaker, nevertheless, refused to rule out Chelsea successfully defending their crown despite being convinced his side will beat the Blues in their visit to Stamford Bridge and extend their advantage over Jose Mourinho's side to nine points.
The Gunners have responded to the disappointing opening weekend defeat to West Ham United in the Premier League opener with one draw and three victories, leaving them fourth in the table, five points behind City and six above their west London rivals. Cazorla believes it is still too soon to make predictions but admits Manuel Pellegrini's side look a level above the rest.
"City have won every game [in the Premier League], they are showing a spectacular level and have not conceded a goal. They have signed [Kevin] De Bruyne, [Raheem] Sterling... they are the team to beat," Cazorla told IBTimes UK. "They are proving that right now they are the favourites to win the title, But all the big ones will be there even despite their start having not been really good. [Manchester] United, Liverpool will also be in the fight because they have good players. It is going to be a tough one."
Asked whether a victory against Chelsea on 19 September will rule out Mourinho's side out of the title race, he responded: "No, we have an important difference with them and hopefully we can increase even further. But they have a great squad and even if we win, the title is not over for them."
"The Premier League is very complicated. I am sure that from now until the end there will be a lot of turnarounds. It's always difficult when you have to defend the title. Everyone expected more from them but there are still too many games to play. They have a great team and they surely will overcome the situation and be up there at the end.
"Of course it surprises me [how Chelsea have started] because they have a great team and they are the [Premier League holders]. Everyone is surprised about it but it will be a difficult game, and even more difficult because of the situation they are. They really need the victory."
Cazorla believes Arsenal will also be in that race should they manage to be consistent. The Spaniard played a pivotal role in successive FA Cup final wins and is looking forward to going on to win a league title.
He said: "If we are consistent we can [win the Premier League]. But this is the problem that we have had in the last [few] years. We had very good moments, with great results and good football, but also had other games where we were not at the level you need to win a Premier League. That is the change we are looking to make this year. This is what we must do if we want to fight with Chelsea, United, City and Liverpool for the title. We must maintain a high level of standards.
"The rest have signed well but we also have a good and depth. We have to be at a very high level to fight with them and also hope that the injuries respect us, because they are bothering us again a lot this season after what happened to [Danny] Welbeck and [Jack] Wilshere."
Arsene Wenger's side head into the match at Stamford Bridge looking to put things right after suffering a blow in the Champions League visit to Dinamo Zagreb, with Arsenal starting their European campaign with a 2-1 defeat.