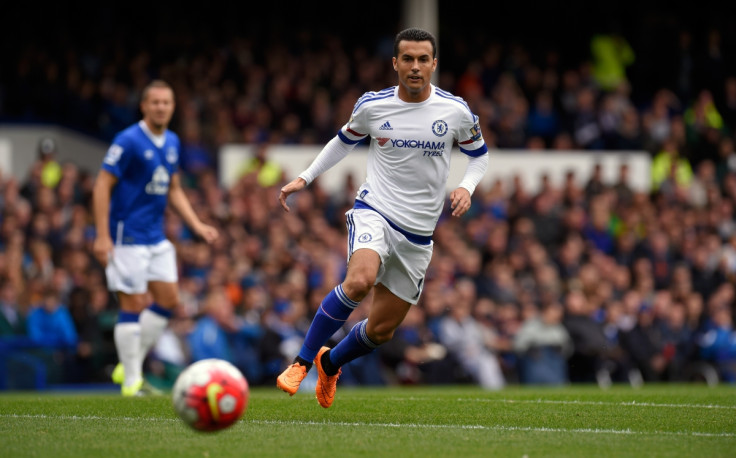 Chelsea attackers Radamel Falcao, Pedro and Oscar are all in contention for the Premier League visit of Arsenal on Saturday 19 September, manager Jose Mourinho has confirmed. Willian, who limped out of the Champions League win over Maccabi Tel Aviv, is a confirmed absentee but the aforementioned trio could yet feature.
Pedro had initially been ruled out by Mourinho after missing the club's first game in Europe with an unspecified muscle problem while Falcao was also considered a doubt after missing the match. Oscar was replaced after 65 minutes of the 4-0 midweek win and is a new injury concern.
Mourinho says all three players have been included in the squad and could feature following recent injuries but that there are no guarantees they will be selected. Arsenal arrive at Stamford Bridge with the chance to extend their lead over champions Chelsea, who have been boosted by claiming their first home win of the campaign.
"Well, I don't have much news," Mourinho admitted, according to The Mirror. "I select every player for the game because we have doubts and I don't want to be in a situation where somebody is injured in the warm-up. Willian is not even an option, but Pedro, Falcao and Oscar, we will see.
"Oscar is a good player and when the team has the ball, especially, he's very important because he's creative and you need that. You need somebody that can beat people 1v1 and associate with other attacking players. So when a defensive opponent, he's very good.
"The quality of the training sessions has not changed [following the win in the Europe]. The quality, the intensity, the concentration and professionalism doesn't depend on winning, losing or happiness. But it is easy to see some better faces. Easy to feel a different atmosphere, it's normal."
Amid Chelsea's uncertain start to the season, the form of last season's player of the year Eden Hazard has been of the greatest concern, with the Belgian having not scored this term. Hazard missed the chance to break the goal drought this term against Maccabi, but skied an early penalty, however Mourinho says he will remain on spot kick duty.
"He's still the best player in England," the Chelsea boss added. "He's the best player playing in this country. It's not before a bad performance or penalty lost or not scoring goals for three weeks. He is the best. He'll be the best again. One of these days, he's the man of the match. As for his penalty: Maybe it was an agreement with some sponsor to promote the Rugby World Cup."