Tottenham Hotspur manager Mauricio Pochettino has claimed that Spurs can cope without suspended striker Dele Alli during the last three games of the team's campaign, after admitting that the England international made a "mistake" during their Monday draw (25 April) against West Bromwich, insisting the team will learn from it.
The Argentinian boss, meanwhile, revealed that Eric Dier will need to pass a fitness test to know whether he will be available for the trip to Chelsea on Monday (2 May) after he suffered a concussion during the disappointing draw with the Baggies. Meanwhile, long-term absentee Nabil Bentaleb also remains on the side-lines.
Alli will miss the last three games of Spurs' campaign against Chelsea, Southampton and Newcastle after being banned for for violent conduct and having admitted to a charge for punching West Brom midfielder Claudio Yacob in the stomach during the game. The PFA young player of the year has been a fundamental cog for Pochettino in the fight for the title.
But the Argentinian boss believes that the squad have enough options to cope without the England international when they face Chelsea - which may be a game with nothing to play for, as Leicester City could clinch the title on Sunday should they beat Manchester United at Old Trafford.
"We have different options [to replace him]. We have good players, we can change the system. We are assessing the team and who deserves to play will play," Pochettino said, as quoted by Tottenham Journal.
"It's very important that he keeps his performance, all the levels of physical condition, because if he will be selected for the Euros he needs to keep his levels. In the next few weeks he cannot play but he needs to work maybe a little bit more to keep his physical condition."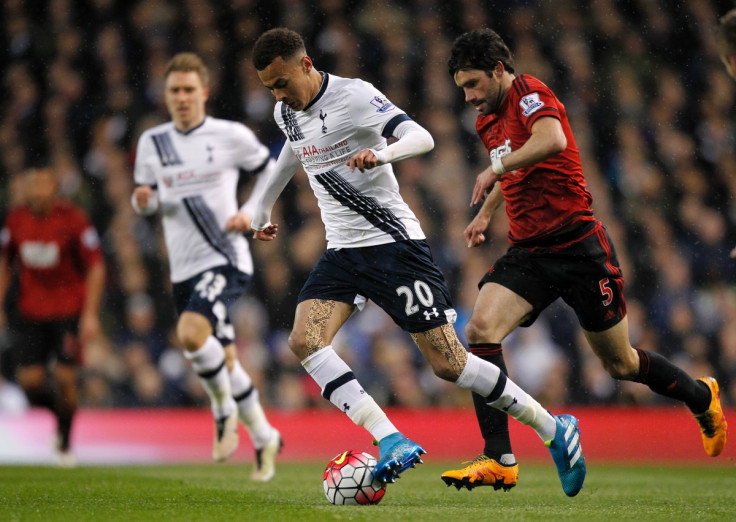 Pochettino, meanwhile, admitted that the England starlet made a mistake by punching Yacob but backed his player to learn from his mistakes while retaining his strong personality – one of the key aspects behind the young player's success.
"The players can make mistakes, like everyone, and it's true it was an action that nobody feels proud about that - but it's only a mistake. It's one mistake, a small mistake. It's sure he's paid for that and that he's learned about that.
"There are many reasons why something like this happens on the pitch, but there's nothing to say. He has a very strong character and personality. That's why he's one of the best players in England and we cannot change him, but he made a mistake and everyone can make mistakes.
"It's difficult to judge but it's true that when you make a mistake you need to pay, and he knows he made a mistake. It's his first season in the Premier League, he's very young, he's a talented player – he knows."
Pochettino, meanwhile, could be also without Dier for the team's trip to Chelsea, after the midfielder suffered a concussion during the draw against West Brom. The boss said that the England international has been training well, but will need to undergo a test to prove his fitness before the game.
"Eric suffered concussion but he's doing well this week," reported Mauricio after training on Friday. "We need to wait until Sunday to make a decision as to whether or not he's available for Monday, " said Pochettino, while confirming that Bentaleb will miss the game despite progressing well after the injury, of which has kept him on the bend since the Europa League game with Fiorentina in February.
"Nabil is also doing well but he is too far away (from full fitness) to return at the moment," the Tottenham boss added.