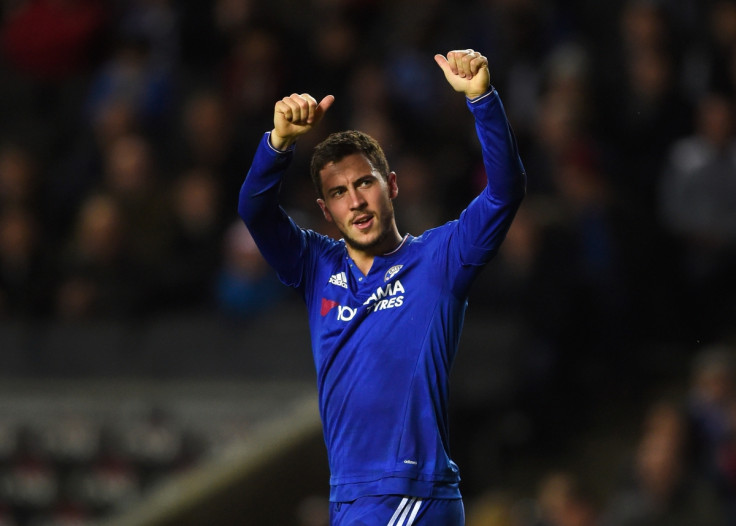 Chelsea winger Eden Hazard has unwittingly fuelled rumours of a summer move to Real Madrid after admitting he would love to play under current manager Zinedine Zidane. Amid a harrowing campaign during which the Belgium international has failed to score a Premier League goal, rumours are rife that he will leave Stamford Bridge at the end of the season.
The Daily Mail understands that both Paris Saint Germain and Real will attempt to lure Hazard to pastures new in the summer transfer window. The player is valued at £90m by the Blues and claimed three player of the season awards last term as the club won the Premier League title under José Mourinho.
Hazard's significant drop-off in form has been among the surprising aspects of Chelsea's season. Zidane paid special tribute to the player prior to his appointment as Real manager and Hazard says he was thrilled to get the backing of a boyhood hero.
"Yes, of course [I would like to play under Zidane]," Hazard told Belgian newspaper La Gazette, according to the Evening Standard. "When I was little, I watched him on TV and on the internet for hours. But, and I repeat, I feel very well at Chelsea, so this is not news.
"It is always nice to hear that the player I admired during my childhood speaking about me. I have always appreciated Zidane. I know about him as a player but not so much as a coach, although he has been very successful debut at the Bernabeu. But I am still under contract at Chelsea and I feel fine."
Though Hazard is keen to play down his delight at being singled out by Zidane, the France World Cup winner is a known admirer of the winger. While assistant to Carlo Ancelotti at the Bernabeu, Zidane claimed Hazard was his third favourite player behind Lionel Messi and Cristiano Ronaldo – triggering rumours regarding Real's interest in signing the Chelsea star.
"I have no doubts he'll be back," Zidane was quoted as saying by Sky Sports. "After Messi and Ronaldo, Hazard is my favourite player. It is spectacular to see him play. Do I see him going to Real Madrid? I love the player, that's all I will say."