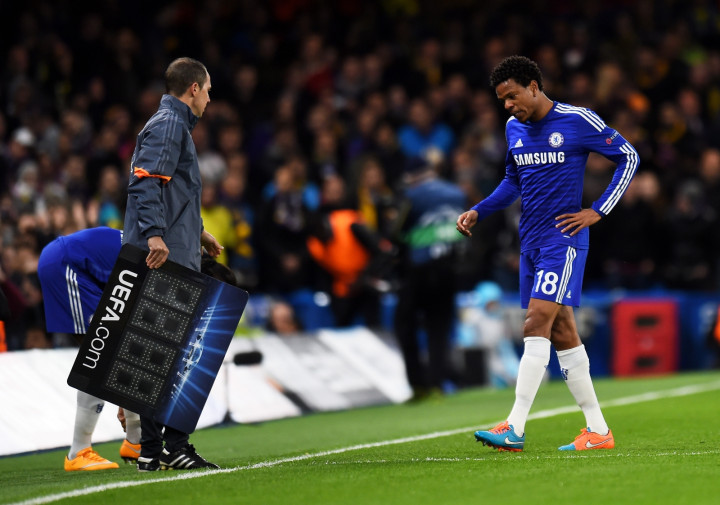 Loic Remy hopes to be available for this weekend's Premier League game against Manchester United even though the French international suffered an injury during the Champions League 6-0 victory over Maribor on Tuesday 21 October.
Remy was forced to leave the pitch just seconds after scoring the opener in the 13th minute of the game.
With Diego Costa also out of the squad due to his hamstring injury, Didier Drogba replaced the Frenchman up front, scoring his first goal for the club since his summer return to Stamford Bridge.
Manager Jose Mourinho was pessimistic about Remy's injury after the game, claiming he did not expect him to be available for the trip to Old Trafford.
"[Remy has a] muscular injury. I don't know the dimension but I am not worried when a player is injured. I don't expect [him to be fit]," he said.
"I don't like to speak about injury players. I was not expecting him to play 75 minutes but in circumstances he had to come on and the game when in the direction where he could manage the range of movement and he was comfortable."
However, Remy has claimed he is confident he only picked up a minor injury and be fit enough to play again Louis van Gaal's side on Sunday 22 October.
"We will see with the scan. I really hope it is not too bad. Fortunately, I stopped playing because I felt something. I don't think it is too bad, but I felt something. My groin," Remy said, according to The Telegraph.
"It was before I scored, it was a bit stiff - even my run did not feel very comfortable. That's why I prefer to come off, but for me I have to care about myself and if I'm not feeling very good it's better to leave for another player who is 100%.
"Yes it's frustrating, of course, because I had a chance to play because Costa is injured, but I am not afraid. I don't think it is really bad. We will check and I really hope to play again this weekend."
It will be a major boost for Mourinho if Remy is fit to play, especially considering Costa remains a major doubt for the game after having missed the last two matches.