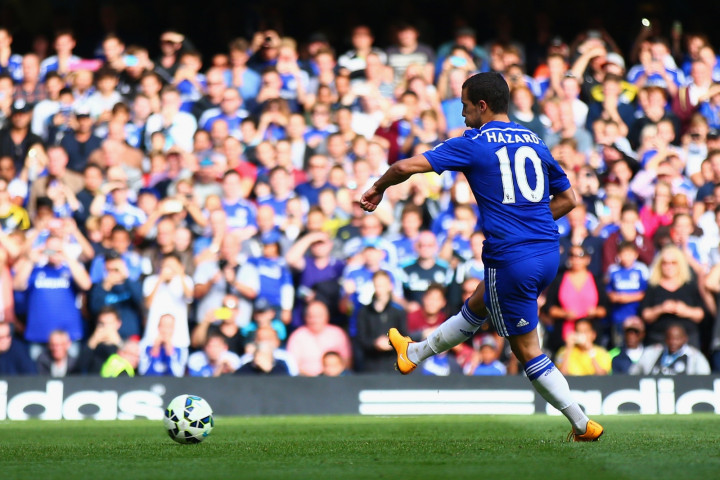 Eden Hazard has responded to Jose Mourinho's unhappiness about his decision to allow Didier Drogba to take a penalty during the Champions League 6-0 victory over Maribor on Tuesday 22 October, claiming the Chelsea striker is the "king".
The Blues secured an easy victory to top the group thanks to goals from Loic Remy, Drogba, John Terry, Mitja Viler (own goal), and a late brace from Hazard himself.
Even though Mourinho was delighted with the team performance, the manager expressed his displeasure of Hazard's decision to let Drogba take the penalty when the result was only 1-0.
"I was surprised [Hazard gave Drogba the penalty]. I was not particularly pleased. Hazard is first choice for penalties. But it was a goal, so I was happy for that," Mourinho said.
Mourinho has never hidden his passion for the Belgium international but it is not the first time he has expressed his unhappiness with some of his decisions.
Nevertheless, Hazard has tried to play down the tense situation, claiming he cannot say no to a legend like Drogba when he ask him to take the penalty.
"He asked me if he could shoot and I said 'okay, no problem – you are the king, I can't say no!'" Hazard said, according to Chelsea official website.
Meanwhile, Drogba also justified his demands, claiming he needed to score his first goal for the club since his summer return to Stamford Bridge.
"I needed to score that goal and he [Hazard] said yes and this is the spirit we have in this team. We share goals and we are happy when everyone is scoring and they helped me with my confidence," the striker said.
"I am happy because of the way we played. We scored two goals and we didn't stop, we continued to play and that is the result."