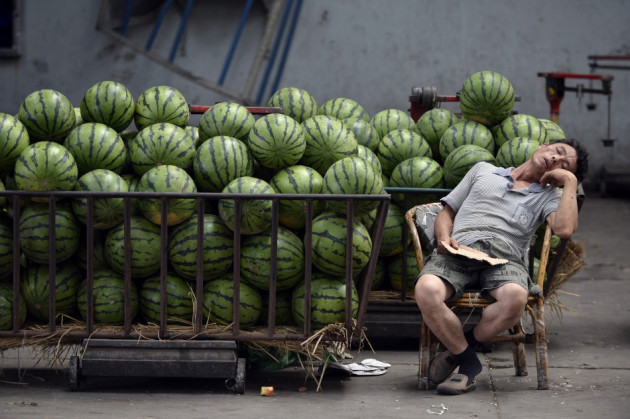 China's consumer price inflation remained stable in July and below the government target, leaving room for policymakers to undertake new monetary stimulus to boost economic growth.
Consumer prices rose 2.7% year-on-year in July, the same as in the previous month, according to the government's National Bureau of Statistics (NBS). Economists had expected prices to increase by 2.8%.
In July, overall food prices rose 5% year-on-year. Pork prices increased 1.7% compared to the previous month and vegetable prices increased 2.2% from June, primarily due to a drought in southern China.
At the same time, producer price index (PPI) inflation rebounded significantly in July, but remained negative for the 17th consecutive month, indicating that demand remains sluggish.
The deflation rate in factory prices was 2.3% in July, compared to 2.7% in June. The rebound in producer prices was primarily attributed to price increases in raw materials.
Consumer Price Inflation within Target
Inflation has been very moderate in China so far this year, while the most of the other major economic indicators fuelled concerns that the economy is entering a sustained slowdown.
In March, the government announced that it intends to keep the annual inflation rate at 3.5% or lower. If inflation remains below the target, the government will have more room to ease benchmark policy rates and thereby accelerate growth in the world's second-largest economy, which is poised for the weakest expansion in 23 years.
"Stable and relatively low inflation" that's below the annual target "will allow the government to continue stimulating growth without worrying too much about the risk of stoking price pressures," Dariusz Kowalczyk, senior economist at Credit Agricole CIB, told Bloomberg.
Authorities have been trying to keep the costs of consumer goods down, cracking down on corruption and price-fixing in different sectors, including pharmaceutical and food. China this week fined six dairy companies including Mead Johnson Nutrition Co. and Danone for price fixing.
Some analysts were of the view that the central bank is long overdue to undertake stimulus measures and a further delay would result in the government not achieving its economic growth target.
"It seems that the central bank has adopted a 'wait and see' strategy, which continues to defy market expectations for a policy easing. We believe a policy rate cut is long overdue, and if capital outflow were to become large and persistent, the People's Bank of China would be forced to cut the reserve requirement ratio," said economists at ANZ Research.
The further delayed monetary policy adjustment "in turn runs the risk of the government not achieving its 7.5% growth target," ANZ said.