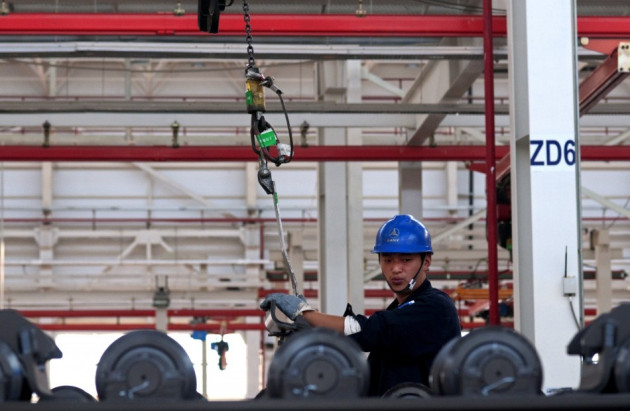 China's industrial production and retail sales have beaten estimates in October, increasing hopes of growth to pick up in the world's second largest economy.
Data from China's National Bureau of Statistics shows that the country's manufacturing, mine and utility output surged to 9.6 percent year-on-year in the month from 9.2 percent in the previous month. Separate polls by Reuters and Dow Jones News wires had shown that the figure was expected to be at 9.4 percent.
Retail sales surged to 14.5 percent in the month from 14.2 percent in the previous. Reuters had predicted retail sales to drop to 14 percent.
Separate government reports also showed that fixed-assets investment, an indicator of spending on construction, industrial equipment and related projects, improved 20.7 percent year-on-year in the ten months ending October. The data beat the expected level of 20.6 percent, reported by Reuters and Dow Jones Newswires.
The data is expected to increase hopes that the country's economy will achieve its growth targets.
Zhiwei Zhang, economist at Nomura said: "These data reinforce our view that growth in Q4 will pick up strongly to above 8%."
The Communist government had earlier set a target of 7.5 percent for the year. Its third quarter gross domestic product (GDP) had remained at 7.4 percent.
Falling Inflation
Earlier reports had also suggested that China's Consumer Price index rose 1.7 percent year-on-year in October, down from an increase of 1.9 percent in the previous month. The data is expected to provide more room for the People's Bank of China to initiate monetary easing measures to aid the economy.
"The October CPI confirms that inflation is currently not a main concern for the government. Policy easing will likely continue in Q4 to support a growth recovery," Zhang noted.
While the central bank may not ease the interest rates for the rest of the year, it may focus on keeping the credit supply strong through trust loans and bond issuances, he said.