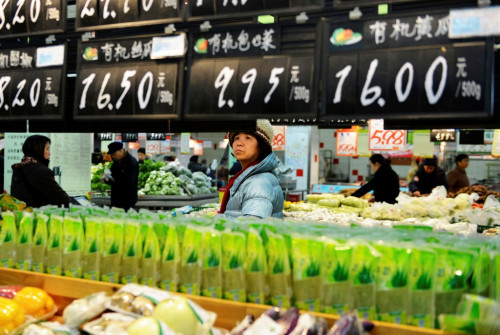 Consumer-price inflation in China dropped to a seven-month low of 2.5% in December, suggesting the world's second-largest economy weakened at the end of 2013.
Food prices rose 4.1% in December on an annual basis, slowing from the preceding month's 5.9% rise, the National Bureau of Statistics said on 9 January.
Month-on-month, consumer prices rose 0.3% versus the 0.4% increase expected by economists.
The statistics office also said that China's producer prices, a measure of the cost of goods that leave a factory, fell 1.4% on an annual basis in December, the 22nd consecutive drop.
Thursday's data followed recent data that highlighted weaker growth in China's manufacturing and services sectors.
Beijing is expected to put out December 2013's trade figures on 10 January and fourth-quarter GDP figures on 20 January.
"A lot of the producer prices are falling partly because upstream oil prices and steel prices are falling as well, the iron ore price has come off," said Stephen Green, head of Greater China research at Standard Chartered in Hong Kong.
"The overall numbers tell us this is an economy which is just about growing around potential but it's not growing above potential," Green told Bloomberg Television.
"While CPI inflation came in lower than expected, the January figure will likely exceed 3% again due to the Chinese New Year effect," said Zhou Hao, an economist at ANZ in Shanghai.
"Inflation could exceed 3.5% in the second half of 2014, as upcoming pricing reforms could push up commodity and public utility prices. Therefore, we think that CPI inflation will be 3.2%-3.4% on average this year," Zhou told Reuters.
Deleveraging
China is looking to further open up its banking sector for competition as it plans to open three to five private banks on a trial basis in 2014.
The state-owned Xinhua news agency, quoting the China Banking Regulatory Commission (CBRC), said Beijing was planning to add more domestic and foreign capital to its banking sector.
Earlier in the week, China said its much-debated shadow banking system played a positive role in boosting its economy.
A seven-page draft document, "a notice about some issues related to strengthening shadow banking regulation," indicated a more permissive stance by the government than expected, reported the Financial Times.
Consumer inflation hovered at 2.6% in 2013, well within Beijing's target limit of 3.5%, the statistics office said.
China's economic growth is expected to hover at 7.6% in 2013, according to a December 2013 cabinet report, a notch above the government's target of 7.5% and slightly below last year's 7.7% growth rate.