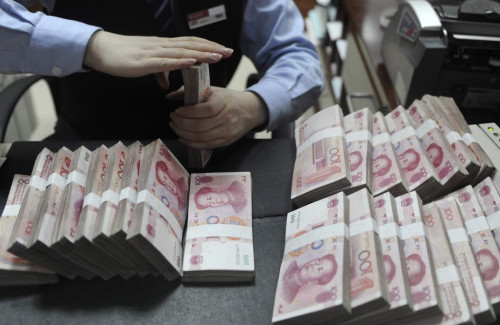 China has said its much-debated shadow banking system played a positive role in boosting its economy, in a document which appears to take a more permissive approach to complex investing strategies than expected.
A seven-page draft document, "a notice about some issues related to strengthening shadow banking regulation", indicates a more permissive stance by the government than expected, according to the Financial Times.
"The emergence of shadow banks is an inevitable result of financial development and innovation. As a complement to the traditional banking system, shadow banks play a positive role in serving the real economy and enriching investment channels for ordinary citizens," said the document.
"At present, our country's shadow banking risks are under control overall. But as the 2008 global financial crisis demonstrated, shadow banking risks are complex and hidden, and vulnerabilities can emerge suddenly and spread, easily causing systemic problems."
The document identifies three kinds of shadow banks and vows to monitor their development more closely.
"First, there are those with no operating licences, such as internet finance companies, that are subject to no regulations. The second group are those that do not hold licences and are only partly regulated, such as credit-guaranteed companies. The final batch are those that have licences but face inadequate regulation such as money-market funds," the newspaper writes.
The document is believed to have been drafted jointly by the central bank and the banking, securities and insurance regulatory commissions. Regulatory agencies will now draw up more detailed implementation guidelines as their next step.
The new regulations would control off-balance sheet lending by banks and place non-bank institutions under closer scrutiny, brokerages Haitong Securities and China Securities told the newspaper.
Shadow Banking in China
Once dominated by normal banks, China's financial system has been influenced by shadow banking institutions such as trust companies for the past five years.
Banks had traditionally accounted for more than 90% of the country's total funding. At present, they provide slightly more than half of all funding in the economy.
Critics argue that the boom in China's shadow banking has helped fuel a surge in its debt levels since 2008.
The National Audit Office (NAO) said earlier that China's local government debt rose 70% from three years ago to 17.9tn yuan ($2.9tn, €2.1tn, £1.8tn). According to China's last local debt audit, the figure stood at 10.7tn yuan as of end-2010.
Total government debt including both central and local governments amounted to 20.7tn yuan as of June, representing 40% of the country's gross domestic product (GDP). Including contingent liabilities, total government debt stood at 30tn yuan, equivalent to 55% of the GDP.
Rating agency Fitch estimates China's total debt, including government, corporate and household debt, to reach 218% of GDP by the end of 2013, up 87 percentage points since 2008.
Nevertheless, supporters of shadow banking say it transformed the economy's financial system into a more open and market-led one.